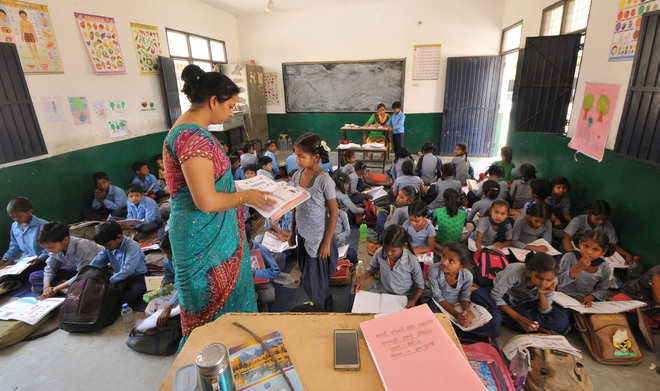 Kulwinder Sangha
Mohali, May 11
An acute shortage of water, rooms, benches and toilets plagues Government Primary School, Badmajra, which was opened about 40 years ago.
The institution gets piped water supply for about an hour in the morning and that, too, at a low pressure. Soon after the school opens for the day, water is filled in drums and a tank for use during the working hours. To tackle the problem of low pressure, teachers were compelled to buy a pump set by making contributions to fill the overhead water tank.
Students bring bottles of water from home as there is no certainty whether it will be available in the school. When the water supply gets disrupted, water is collected from houses in the village and even bought from a tanker. As the school does not get a supply of midday meals, cooking such food on the premises without adequate water becomes difficult.
It is learnt that mid-day meals are not being supplied by the agency concerned to the school from this academic session. It is given wheat, rice, pulses, etc, which have to be cooked by mid-day meal workers on the premises. They even have to get the wheat ground into atta. When these items are not received in time, they have to be purchased on credit from shopkeepers in the village.
During a visit to the school by The Tribune team, students were seen having food from their tiffin boxes and carrying bottles of water. The teachers said food was not served in 'thalis' because there was no water to wash these after use. Lots of houseflies were also seen in the area where the small children were sitting and having food.
The school, with 436 students on its rolls, has only one toilet. It also faces a shortage of fans and has only 26 benches, compelling students to sit on mats during class.
The students are divided into 14 class sections, but there are only nine classrooms. Owing to a shortage of space, sections are combined. At times, two teachers have to teach different groups in one room during the same class period, leading to overcrowding and adversely affecting the quality of instruction and student participation. Almirahs and metal trunks were also seen lying in classrooms.
Four rooms of the school were constructed in 1976 and five added in parts after 2011. Some of these rooms leak during the rainy season. The head teacher said cooked midday meals were not supplied to the schools which did not fall within the municipal limits. The meals had to be prepared at the school itself. She said the area where the students were served food could not be cleaned properly due to a water shortage, leading to the problem of flies.
Top News
After high drama, khap leaders convince protesters to defer ...
Rs 10L for kin of victims CRPF IG sent to Manipur
To induct Khudian, Balkar; Nijjar 'resigns' | Reshuffle in p...