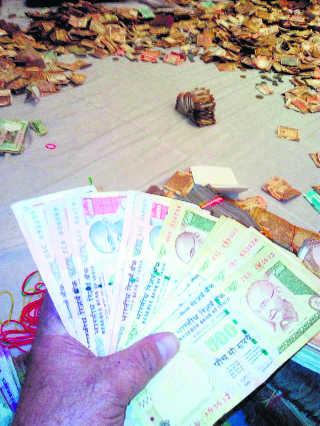 Ramkrishan Upadhyay
Tribune News Service
Chandigarh, October 13
Three years after demonetisation, scrapped Rs 500 and Rs 1,000 notes continue to find their way into donation boxes at temples in Chandigarh.
While incidents of getting an odd scrapped note or two are common, the Sai temple in Sector 29 has received Rs 13,000 in scrapped notes.
Sources said eight notes of Rs 1,000 and 10 notes of Rs 500 were found when office-bearers of the management committee of the temple were counting the offerings today.
The committee opens the donation box of the temple once a month.
Lakhs of devotees visit the temple every month. The temple gets an average of Rs 30 lakh to Rs 40 lakh every month as donation from devotees.
"We have received Rs 13,000 in demonetised notes as offerings and are yet to decide what to do with the notes," said one of the office-bearers of the temple.
He said they had kept the demonetised notes in the temple chest for now and would decide what to do with these as per law. Keeping banned notes invites punishment so devotees find offering these in temples the best way to get rid of these. The government has notified a law that makes holding of over 10 scrapped notes punishable with a minimum fine of Rs 10,000.
Members of the management committee said offerings in the form of cash had seen a surge at religious places soon after the government announced the withdrawal of high-value bank notes on November 8, 2016. The Sai temple had received Rs 8 lakh in the form of demonetised notes of Rs 500 and Rs 1,000 when the management opened up the donation box on November 15, 2016.