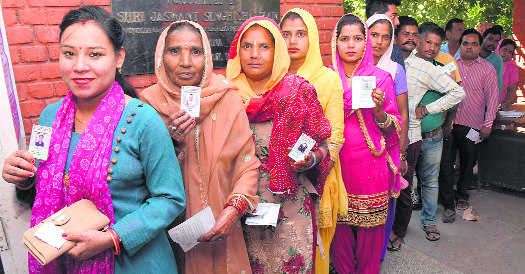 Amit Bathla
Tribune News Service
Panchkula, October 21
Barring a verbal duel between two political groups outside a booth in Sector 16 here, polling for the Assembly elections remained by and large peaceful in the Panchkula and Kalka constituencies in the district today.
The district recorded a polling percentage of 65. A turnout of 59 per cent was registered in Panchkula and 70 per cent in Kalka. As many as 24 candidates are eyeing the two seats. The voters' verdict is now sealed in electronic voting machines (EVMs).
The voting in the Panchkula constituency started on a dull note with just 2 per cent voters exercising their right to franchise in the first two hours of polling, which began at 7 am. It, however, picked up pace as the day progressed. Till 10.20 am, the turnout was 9.60 per cent. It was 19.20 per cent around noon. It rose significantly in the next hour and a half as 31.10 per cent voter turnout was registered around 1.20 pm. By 3.30 pm, 43.20 per cent of the total voters had hit the EVMs. Around 5 pm, the polling was recorded at 51.40 per cent.
Interestingly, elderly voters were found to be more enthusiastic than younger ones as they were seen queuing up during the early hours.
Last-minute appeals
With dummy ballots in their hands, supporters of the BJP and the Congress were seen urging voters, approaching towards the polling booth at Government Model High School in Sector 17, to vote for their party. "Modi ji 3 number, kamal ka phool teen number par," a BJP volunteer told a group of women voters. A few metres away, some Congress volunteers had a heated exchange with a photojournalist, who expressed his displeasure over their attempts to tell people to vote in their favour.
Security in place
The district election authorities had made security arrangements at polling booths across Panchkula to ensure smooth, free and fair elections.
Dip in turnout
In 2014, the voter turnout in the Panchkula Assembly constituency was 65.72 per cent while that of Kalka was much better at 79.3 per cent
In 2009, it was 57.45 per cent and 77.3 per cent in Panchkula and Kalka, respectively
Leaders vote
Panchkula BJP candidate Gian Chand Gupta, who was accompanied by his wife, exercised his franchise at Vijay Public School, booth number 114, a few metres away from his residence in Sector 17. Congress candidate Chander Mohan and his family members cast their votes in Sector 8. A direct contest between the two contenders was apparent considering the presence of their volunteers at polling booths across the district.
Top Stories