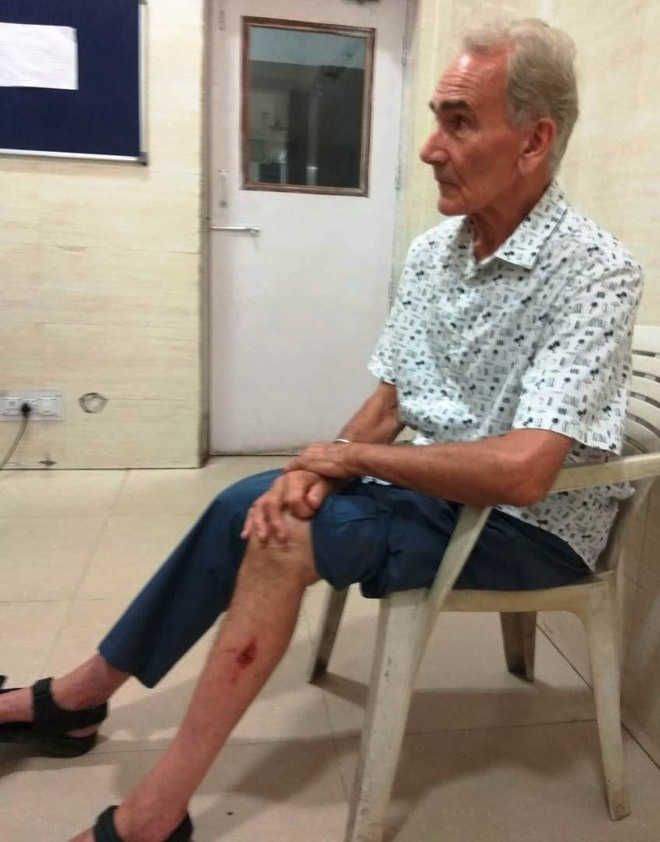 Mohit Khanna
Tribune News Service
Chandigarh, July 16
A 73-year-old wildlife ecologist from Scotland, Dr Iain Colquhoun, was bitten by a stray dog on Sunday when he, along with his friend Jaspreet Kaur, had gone to the house of Ritu Gandotra in Sector 47 here.
As they were approaching the house, a stray dog attacked Dr Colquhoun on his left leg. Thereafter, it escaped. Dr Colquhoun was taken to the Sector 22 dispensary, where he was administrated a pain killer and anti-rabies vaccination.
Shocked over the incident, Gandotra, said, "We were planning to watch the football World Cup final, but a stray dog attacked Dr Colquhoun in front of my house."
"People feed dogs, but they are reluctant to get them vaccinated and keep them as pets. At night, dogs chase away vehicles and pose a threat to people on two-wheelers," added Gandotra.
She said, "A number of complaints about the increasing population of dogs in the area have been filed, but the civic body is doing little to redress the issue."
Exasperated, she visited the Municipal Corporation (MC) office on Monday. However, she was shocked over what she was told there. "An MC employee said they would bring the dog for
vaccination and after that leave it at the same place. However, they said they could not do anything to stop dogs from biting people," rued Gandotra.
Expressing anguish over the incident, Jaspreet said merely a month ago, a one-and-a-half-year-old child was mauled to death by stray dogs.
---
Dr Colquhoun's suggestion
Due to his experience of working as a wildlife ecologist, Dr Colquhoun managed to circumvent the attack. "Had it been any youngster, the attack by the dog could have proven much worse. Understandably, the dog menace is a challenge, but the MC authorities should do something about it. As a wildlife ecologist, I suggest that the MC should take simple steps. Instead of targeting a dog, the authorities should focus on areas from where more dog-bite cases are being reported and the places where the dog concentration and human population are high," said Dr Colquhoun.
Top News
Congress observers meet Governor, 'seek time' to formally st...
BJP MP Kirodi Lal Meena moved for leave to introduce the Bil...
A bench of Justices MR Shah and CT Ravikumar said that only ...
Average of assets per winning candidates in Himachal Pradesh...