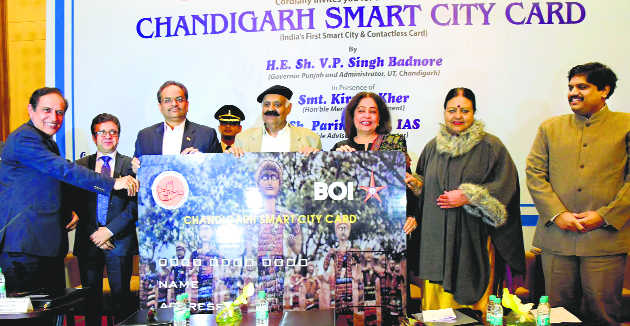 Tribune News Service
Chandigarh, December 12
In a step towards cashless society, UT Administrator and Punjab Governor VP Singh Badnore today launched Chandigarh Smart City Card which can be used to make payment at government offices besides designated merchants in the city.
The card, a brainchild of Deputy Commissioner Ajit Balaji Joshi, can be used from December 25 when its soft launch will take place to mark Good Governance Day.
Registrations for the card will begin at all Bank of India branches tomorrow and Sampark centres on December 15.
Only city residents having Aadhaar card can apply for Chandigarh Smart City Card. Applicants will have to pay Rs 500, of which Rs 150 is the card-making fee while Rs 350 could be used for payments. No fee will be levied for subsequent recharges.
One can get the card recharged at Sampark centres or online through debit card, internet banking or UPI-BHIM applications.
The card holder will get a PIN number, which can be changed. It will carry the photograph and particulars of the holder and can be used as an identity card.
Badnore said, "This is yet another big day for the City Beautiful. I am glad that we have launched the country's first Smart City Card in Chandigarh, which will eventually benefit the entire nation."
MP Kirron Kher, UT Adviser Parimal Rai, Home Secretary Anurag Agarwal and Deputy Commissioner Ajit Balaji Joshi, along with senior Bank of India officials, were among those present.
MP Kirron Kher encouraged people to go for this smart move to make Chandigarh a cashless city.
UT Adviser Parimal Rai explained that the consumers could recharge the card up to Rs 50,000. He added that transactions worth Rs 2,000 could be done without generating a one-time password (OTP).
Rai said the merchant discount rate (MDR) on the use of the card would be the lowest and no charges would be levied for the renewal of the card. The MDR will be 0.25 per cent for transactions at government offices and 0.50 per cent for retailers.
DC Ajit Balaji Joshi said the card would help promote digital payments.
Ashutosh Mishra, a Bank of India official, said city residents can apply for the card at Sampark centres and the online portal of the bank.
The card holder can make the payment either through a mobile app, which can be downloaded from the Google Play Store or the card reader the bank will provide to merchants.
Use it at
Government offices in city
All public and private transport modes like CTU buses and private taxis
Smart parking lots
Retail stores, cinema halls and other facilities in the city
Can be used for payment of electricity and water bills
About Chandigarh Smart City Card
Registrations to begin at all Bank of India branches on Wednesday and at Sampark centres on Dec 15
Only those having Aadhaar card can apply
Will become operational from December 25
To come at an initial cost of Rs 500, with usable value of Rs 350
Use of card to attract lowest merchant discount rate
PIN not required for payments not more than Rs 2,000
Maximum recharge limit Rs 50,000
To generate digital invoices with GST break-up
Top News
Polling draws to a close | Counting of votes on Dec 3
The data showed Punjab had only four days in 2023 where fire...
Modi will attend the World Climate Action Summit on Friday d...