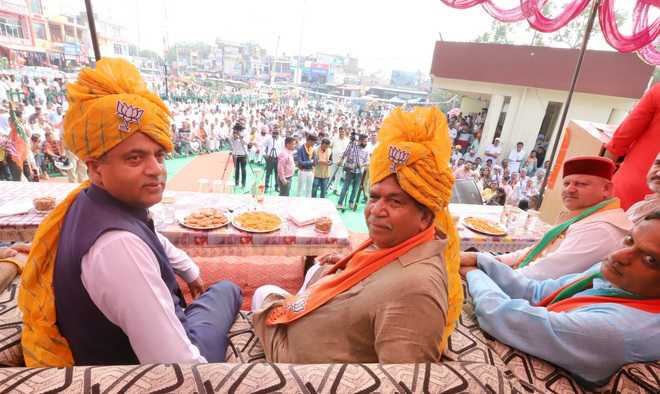 Tribune News Service
Panchkula, October 16
Himachal Chief Minister Jai Ram Thakur said abrogation of Article 370 was a historic step as it had integrated Jammu and Kashmir (J&K) with whole India. Now the people of the Valley would be able to avail benefits of various laws, which residents in other states of the country enjoyed, he added.
Jai Ram Thakur was in Barwala today to address a public meeting in favour of BJP candidate Gian Chand Gupta. He said this was possible under Prime Minister Narendra Modi and Home Minister Amit Shah. Thakur said Gupta had diligently worked for the betterment of the constituency, without any discrimination between villages and town.
Speaking on the occasion Gupta said developmental works of neglected villages in Barwala, which had been lying pending since past 15 years were completed in five years.
Gupta accompanied by Jai Ram Thakur also visited Chowki, Barwala, Kot, Tibbi, Chhabilpur, Khetrapurali, Rattewali, Behar, Dubkori, Banga and Kami villages and Tribune Mittar Vihar Colony in Madanpura.
District president Deepak Sharma, Vidhan Sabha in-charge Virendra Rana, district vice-president Umesh Sood, mandal in-charge Praveen Gupta, Barwala sarpanch Baljinder Singh, Kulbhushan Goyal and Yogendra Sharma were also present during Gupta's campaign.