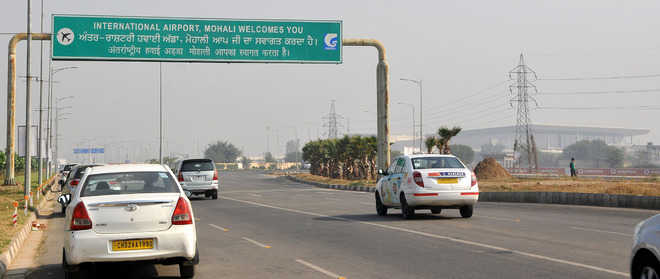 Akash Ghai
Tribune News Service
Mohali, January 24
The Greater Mohali Area Development Authority (GMADA) is all set to extend the 200-foot-wide Airport Road by 10 km to connect the Chandigarh international airport in Mohali with New Chandigarh via Sunny Enclave.
The GMADA authorities claimed that the project, estimated to cost around Rs 200 crore, would connect New Chandigarh with Mohali directly without entry to Chandigarh and would shorten the distance between the two towns by around 5 km.
They said there would be no need to enter the busy roads of Chandigarh after the completion of the project. It would save over half an hour of commuters intending to travel from Mohali, particularly from the airport side, to New Chandigarh or vice versa.
Under the plan, the road will be extended from the Mohali-Kharar highway (from the point where it starts near the VR Punjab mall), and will pass through Sunny Enclave, Hussainpur village and Thaska to meet the main road (PR 4), which connects Chandigarh with the Siswan-Kurali road at Majri. "With the construction of this stretch, the distance between the two towns will be shortened and the travel time will also reduce substantially. Besides, one will not be required to travel on the busy roads of Chandigarh," said Sunil Kansal, Chief Engineer of GMADA. He said the estimated cost of the project would be Rs 200 crore. GMADA is in the process of acquiring 112 acres for the road.
"The process of acquisition of land is on and we are hopeful of completing it within two months," said Kansal, adding that after the completion of the land acquisition process, they would move further without wasting any time.
Vigilance probe under way
At present, the 17.5-km-long stretch of Airport Road, which was constructed around three years ago at a cost of Rs 169 crore, connects the Mohali-Kharar highway with the Zirkapur-Patiala highway. The road had come under the scanner after it started caving in at various spots within six months of its construction. Large-scale corruption had allegedly taken place in its construction. An inquiry by the Punjab Vigilance Bureau is on in this regard.
Top News
Appointments come amidst strong observations by a Supreme Co...
The regulator says committed to ensuring market integrity; m...
Firm exported two consignments of 24 batches of the allegedl...
Preneet Kaur is accused of helping the BJP in the northern s...
According to a FIFA ruling, men football players can wear tu...