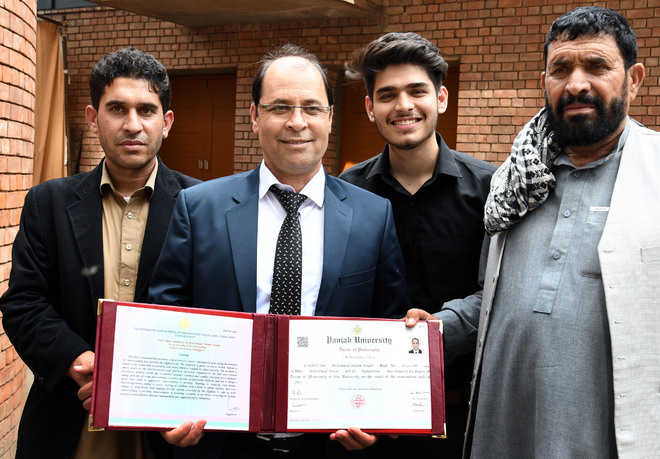 Tribune News Service
Chandigarh, March 4
As many as 884 students received their degrees at the 67th convocation at Panjab University, Chandigarh, while 326 students got cash awards and medals, here today.
A total of 324 students were awarded PhD degrees. There were 34 endowment gold medals, 11 silver medals, 198 university gold medals, five university silver medals, 21 cash prizes, 18 declamation cash prizes and 39 merit certificates.
Prof Arun K Grover, Vice-Chancellor, in his address said the PU campus in contemporary times comprises over 75 closely-knit university departments and institutes. The 1904 Act had enjoined all the then five Universities of India to nucleate university departments, create faculty structure for academic administration and concurrently appoint lecturers and professors who would engage in research and nurture chosen students to emerge as leaders in different disciplines.
He further added that the report of planning commission advocated that university faculties and researchers should be enabled to work in areas which would improve the competitiveness of the Indian corporate sector vis a vis their counterparts globally. Taking a cue from other recommendations enshrined in that report, the PU took the initiative to nucleate the Chandigarh Region Innovation and Knowledge Cluster (CRIKC). The CII signed a MoU with CRIKC, which has interfaced similar clusters operating on behalf of good universities in the UK, Canada and Australia.
He further said the university reached out to the alumni abroad to promote PU's interests. The PU has signed the MoU with IC-IMPACTS, a conglomerate of high ranking universities in Canada and Canadian Industries operating from the University of British Columbia in Vancouver.
---
Highlights
A documentary film by the School of Communication Studies was shown on the occasion, which was shot by a drone camera.
Flying Sikh Milkha Singh got standing ovation on the occasion.
78-year-old HS Chinna received his PhD after 42 years of submission of his thesis. He was enrolled at NDRI, Karnal, which was under the PU at that time. But as he did not have diploma in foreign language, his viva was not held. Later, senator Prof Rajat Sandhir pursued his case and finally his viva was held on February 26.
Panjab University Teachers Association (PUTA) President Prof Rajesh Gill complained that some senators were favoured and were seated in the front row whereas she and Prof Shelley Walia were made to sit in the second row which was humiliating. "Also, I received a call from the SHO, sector 11, inquiring whether PUTA would create any trouble today. This is disgusting," she said.
Top News
Gurpatwant Pannu, head of the banned terror outfit Sikhs For...
'Sidhu Moosewala murder mastermind will be very soon in the ...
NIA had announces Rs 10 lakh reward on Harpreet Singh alias ...
The hexacopter was recovered in a joint operation by the Pun...