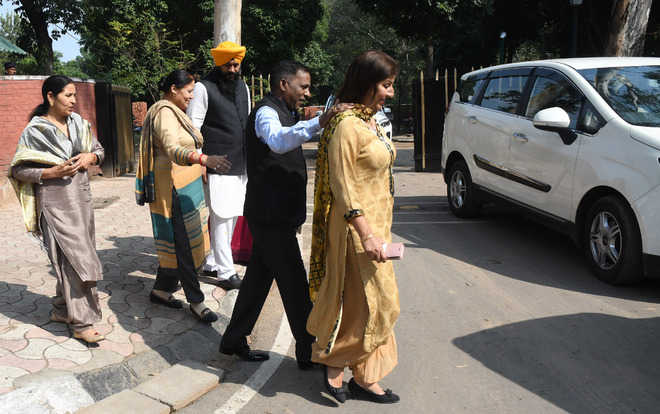 Ramkrishan Upadhyay
Tribune News Service
Chandigarh, November 8
Punjab Governor and UT Administrator VP Singh Badnore has announced a financial assistance of approximately Rs 150 crore to the cash-starved Chandigarh Municipal Corporation. Besides, the Governor has also approved an increase in the ward development fund from Rs 80 lakh to Rs 1 crore.
The assistance was announced after an all-party delegation of councillors, led by Mayor Rajesh Kalia, met the Governor today at the Raj Bhawan. Sources said of the Rs 150 crore, the Administration would release Rs 50 crore for road recarpeting work.
The remaining amount will be released soon. Of the remaining amount, Rs 38 crore will be spent on improving the water supply infrastructure, while Rs 14 crore will be used for making payments for the the Kajauli waterworks installation work. The Governor has asked the MC to prepare a detailed plan for the use of Rs 50 crore.
The Mayor decided to meet the Governor as the ongoing financial crunch has hit major projects of the corporation. Devinder Singh Babla, Congress councillor, said due to the financial crisis, all works had almost stopped. He demanded that road recarpeting works should be started as soon as possible. The Mayor said the Administrator assured to release a special grant for development works in the Mani Majra area.
Charanjiv Singh, nominated councillor, demanded to allow auction of property on a freehold basis, which will help generate more revenue.
MC expenditure more than income, faces bleak future
The Municipal Corporation faces a bleak future as it will be difficult for it to carry out development works in the absence of sufficient funds. The gap between expenditure and income has continued to widen in the past five years. While the income of the MC is around Rs 150 crore, it has committed liabilities of around Rs 500 crore annually. The MC has committed liabilities of Rs 42 crore every month, which include salary and expenditure on electricity, water and petrol, besides, pension, which is approximately Rs 3.50 crore per month. In the past five years, the MC has been spending more than its income.