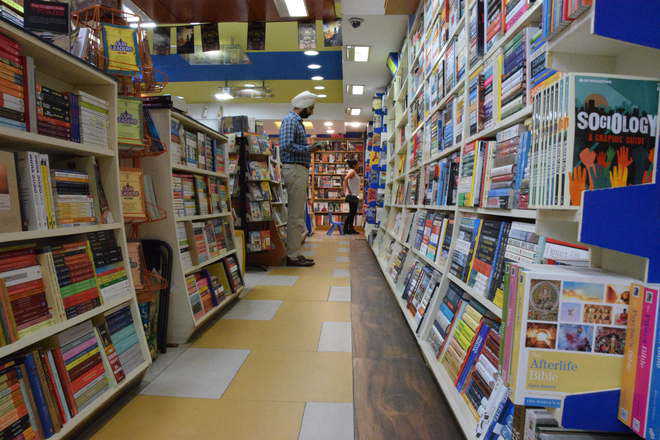 Kuldip Dhiman
"There are perhaps no days of our childhood we lived so fully as those we spent with a favourite book," said Marcel Proust. However, times have changed and there is a general feeling among the people that children are not reading books other than textbooks. With the advent of the Internet and social media of various kind, people have little time for books, and the final result of this is a decline in the sale of books.
Says Ajay Arora of Capital Book Depot, Sector 17, "As population and literacy is growing, the book trade is also steadily moving upwards. Because of this, there will be always be a small percentage of people who will get into non-academic reading. That market has been growing well but I cannot say that the business is doing well. In the past four or five years, the electronic medium has intruded vigorously. I do not mean Kindle, but the Internet, Facebook, Whatsapp and other social media. And our business has suffered mainly because of online sales. Amazon and Flipkart are giving unheard of discounts to attract customers so that they are lured into buying things other than books. They are pumping in millions of dollars to kill the traditional bookstores, just as what Ola and Uber are doing to kill the auto-rickshaw business."
Mahendra of Variety Bookstore, Sector 17, laments the fact that sales are down because even those people whose job is to read books are not coming to the store anymore. "Earlier, university professors used to come here often to see new arrivals. They used to keep themselves updated, but now nobody comes. I don't even know who the new professors are." Mahendra too holds the Internet and online sales responsible for the decline in the sale of books.
Vipin Kinger runs Asia Book House, a small outlet in Sector 17. He claims his USP is personal interaction with customers. "Once customers come to our shop, they stay with us. I have customers who have been coming to me for about five decades as ours was the first book shop in Sector 17. They prefer to come to the shop because they can browse and love the smell of books. So, online sales has not affected us much."
Pankaj P Singh and his wife Jagdeep Kaur founded The Browser 20 years ago, and it seems no new shop has been opened in the tricity since. Looking back, he says, "Publishing has grown, the number of books and Indian authors has also grown. Now it is very easy to become an author. Self-publishing has come in a big way. However, online has made a big dent in our trade."
A popular destination with book lovers and intellectuals is the Punjab Book Centre in Sector 22. Reflecting on the state of book business, Avtar Singh, managing partner, says, "Our business is down by 30 per cent. It is because of demonetisation. Now, people have this protective attitude about not spending money. Books are like extra activities, like buying sweets for the family etc. Now all these extra activities have stopped because of demonetisation. Goods and Services Tax (GST) has made matters worse."
Karan Puri of Atma Ram & Sons, which was established in 1909 in Anarkali Bazar, Lahore, declares, "Book trade is finished. Nobody reads books because of the Internet, everybody is downloading free material. Many shops in Delhi have closed down and many are on the verge of closure."
Amidst this largely pessimistic atmosphere, Rajiv Choudhary of English Bookshop has something opposite to say. "No doubt many people are buying online, but it has not affected my business. The number of our customers is increasing steadily, so much so that we are now open on Sundays as well."
What about the general feeling that youngsters are not interested in reading. "Look around my shop, it is full of youngsters. Contrary to what people think, youngsters are everywhere. Go to Mansa Devi temple, you will find so many youngsters there. Then go to the Nada Sahib Gurudwara, again you will see so many youngsters. Go to the Golf Club, you will see youngsters, and go to any bar, you will find youngsters. They are everywhere because youngsters these days love all things, they are religious, studious as well as playful."
Another surprising thing he has to say is about Hindi and Punjabi books. While all bookstores say that Hindi and Punjabi books do not ring the buzz, Choudhary says, "Even I was under the same impression, but then I met a few publishers to check the scene, and what they said surprised me. The Hindi publishers said they were doing business in crores. After that, I decided to increase my stock of Hindi and Punjabi, and the books are really selling well."
Dealing with the situation
City booksellers have tried to meet the challenge in various ways. Capital Book Depot and The Browser, who had huge showrooms on the ground floor, have shifted to smaller showrooms on the first floor. Atma Ram & Sons use half of their showrooms to sell gift items and cosmetics.
Showing a way out, Ajay of Capital Book Depot says, "We should follow the road that the European Union (EU) has taken. They have set a limit to the discount an online store can give. Moreover, online stores have to charge the customer for the shipping givingbookstores a level playing field."
In spite of doomsday predictions, books will always be read by people in some form or the other.
We are now seeing booksellers gradually passing on the baton to their heirs. This would not have happened if the business had no chance of survival.
However, it is the duty of parents and teachers to encourage children to read. To do this, they must themselves buy and read books. As the poet Joseph Brodsky said, "There are worse crimes than burning books. One of them is not reading them."
Top News
The former military ruler had left Pakistan in March 2016 fo...
After his failed misadventure in Kargil, Musharraf deposed t...
Military shoots down the surveillance balloon in Atlantic Oc...
The incident took place on Friday when Kambli reached his fl...
CM said only manual excavation of sand will be permitted in ...