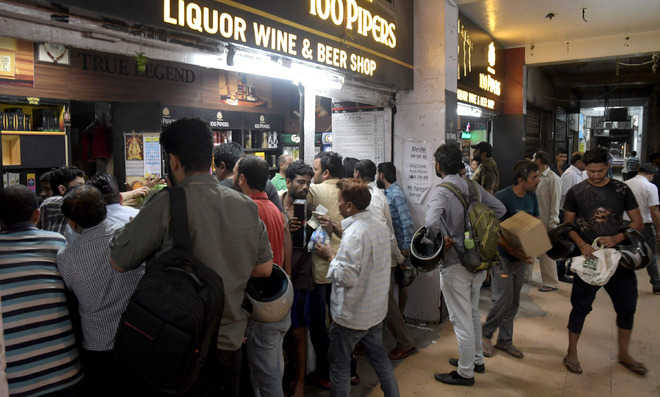 Tribune News Service
Chandigarh, November 17
Liquor in Chandigarh has become costly by 15 to 20 per cent after recent hike in rates by manufacturers. Sources said major liquor companies had recently enhanced the rates by Rs 30 to Rs 50 per bottle.
This has given a shock to Bacchus lovers who term the new rates as another blow after the hike in April 2019. Imperial Blue whiskey which was available for Rs 320 is now costing Rs 370. The other brands whose rates have been increased by Rs 50 include Blenders Pride, Royal Stag, Signature and Royal Challenge.
One of the liquor contractors, Darshan Singh Kler, said with the companies enhancing the rates, they had no option but to follow suit.
The liquor rates were last increased in April 2019 after the administration announced the excise policy. High auction price of vends and the increase in duties announced in the excise policy were responsible for the increase in the rates.
The UT Excise and Taxation Department earned a record revenue of Rs 343 crore from the auction of 81 liquor vends this year. The city in one of the biggest markets of liquor. Kler said the prices of a majority of IMFL brands had increased but still they were lower than those charged in the neighbouring states of Haryana and Punjab. However, the prices of beer and wine remain the same.
A few contractors said this year vends were auctioned at very high prices, so it has become tough to make profits in the stiff competition.
Brand Old New
Royal Stag Rs 430 Rs 450
Blenders Pride Rs 600 Rs 650
Signature Rs 600 Rs 650
Royal Challenge Rs 400 Rs 450
Imperial Blue Rs 320 Rs 370
Top Stories