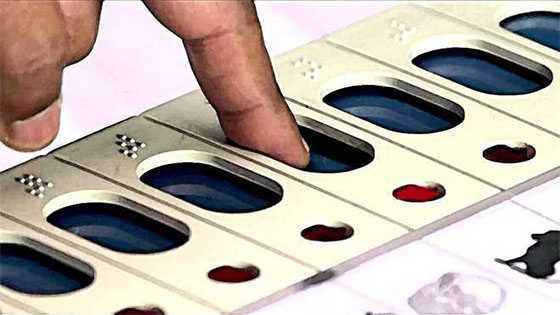 Panchkula, October 19
As campaigning for the upcoming Assembly elections ended at 5 pm today, candidates made last-ditch efforts to woo voters. The polling will take place on October 21.
BJP candidate from Panchkula Gian Chand Gupta addressed several indoor public meetings to reach out to the electorate. The party's women wing also carried out door-to-door campaigning.
Congress candidate Chander Mohan went all-out on the last day of campaigning, urging people to come out on the D-Day and vote for him.
Senior Congress leader Pawan Kumar Bansal also addressed a gathering organised by Aggarwal community in Sector 5 in support of Chander Mohan.
There has been neck and neck contest between the BJP and the Congress in both Assemblies of Panchkula district – Panchkula and Kalka.
Candidates from other parties like the INLD, AAP, the JJP and the Swaraj India are also confident of their victory.
The District Election Office has made arrangements for free, fair and peaceful elections in the district. Restrictions under Section 144 of the CrPC have been imposed.
There are as many as 3.86 lakh voters in the district. The total population of the district is 6.36 lakh.
The voting will be held at 410 polling booths. Of these, 193 centres are in Panchkula constituency. The voting will take place between 7 am and 6 pm. The sale of liquor will be banned from 5 pm of October 19 to 6 pm of October 21. Liquor vends will remain closed on October 24 when the counting will take place.
No political party, candidate can canvass using loudspeakers till the counting is over. Even they would have to refrain from any type of public gathering, address, officials said.
Special arrangements have been made for people with disabilities for their easy access to polling booths. Polling teams have been moved to their respective stations with election material in both Panchkula and Kalka constituencies. As many as 2,056 employees — 1,068 in Kalka and 988 in Panchkula — have been assigned various poll duties. — TNS
Kalka
Total voters: 1.76 lakh
Male voters: 93,128
Female voters: 83,237
Third gender voters: 12
NRI voters: 3
Divyangs: 965
Panchkula
Total voters: 2.09 lakh
Male voters: 1,11,129
Female voters: 98,607
Third gender voters: 6
NRI voters: 16
Divyangs: 1,115