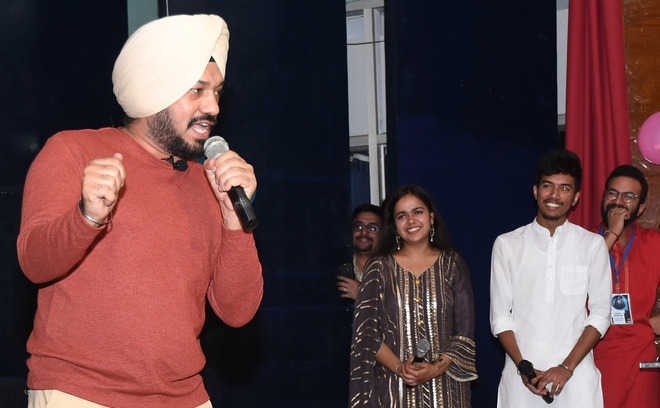 Tribune News Service
Chandigarh, November 8
Punjab Engineering College, Chandigarh, was decked up in bright hues and the roads were full of eager participants with the commencement of the tropical extravaganza, PECFest 2019.
With the theme tropical, everyone in attendance could spot Easter eggs throughout the campus.
The three-day fest kicked-off with enthusiastic participation from college students from all over the country.
Despite the rainy weather, around 100 people participated in the mini-marathon early morning, covering 9 km.
Faculty members flagged off the marathon, which stretched from the athletic ground in PEC to Sukhna Lake.
Vasudev Vashisht and Srushti Patel, both students of fourth year, bagged the first position. Apart from them, the first 10 boys and 10 girls to arrive at the final checkpoint were given trophies and certificates.
This leg of the PECFest was in association with the Chandigarh chapter of Extinction Rebellion, making this run, a run for the awareness of environmental issues.
Technical events were held on the campus, along with cultural events, some in collaboration with IIT Bombay's TechFest, such as the Ultimate Coding Showdown where coders had to solve problems in three rounds, each increasingly more difficult.
Day–1 highlights
Being the most packed day of PECFest, day 1 was a delight to attend.
Along with Glitterati, Groovz and Bhangra Theque, the main stage came to life when contestants walked the ramp with their eye-catching outfits and their show-stopping personalities.
Following the preliminary rounds on day 0 and day 1, teams qualified for finals.
The energy level on the main stage was at an all-time high following these events. A total of 16 teams put their best foot forward facing immense competition, for the Groovz event.
Rang Punjab De - If there's a way to get a Punjabi crowd enthralled, it is through bhangra. This competition not only showcased the unparalleled talent and skills of the contestants but also made sure no one in the audience stood still.
Rockathon - This Battle-of-Bands is the biggest of its kind in North India. It commenced after tedious sound-checks and tests. Each of the 16 bands, with their own style of music and stage presence gave the viewers a flavour of Rock music, Death Metal, fusion and more.
Gurpreet Ghuggi - Actor and comedian Gurpreet Ghuggi presented a hilarious act that left some cry-laughing. With a lot of experience to talk about and cheerful disposition on stage, he won many hearts.
Rap workshop - The first ever rap workshop in the tricity was conducted by India's first female rapper, MC Manmeet Kaur, a hip-hop artist. The workshop focused on rap as a new genre in the Indian music industry.
Nukkad natak – A street play competition was organised by Dramatics Club garnered mass appreciation from everyone. The skits highlighted various social issues, such as domestic violence and women empowerment. This competition also served as prelims for Mood Indigo, IIT Mumbai.
Top Stories