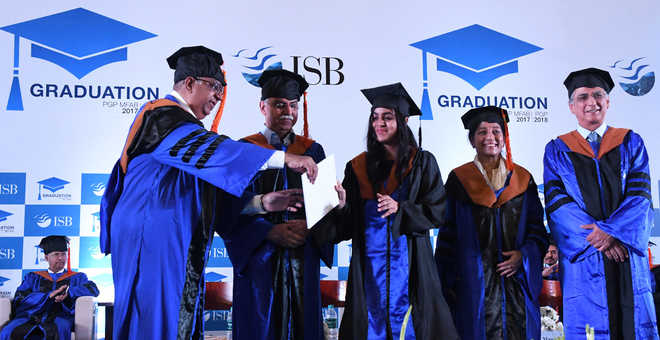 Tribune News Service
Mohali, April 8
As many as 877 students of the postgraduate programme (PGP) and 39 students of the management programme in family business received their certificates during the graduation ceremony at the Indian School of Business here on Sunday.
Certificates were given by chief guest Mallika Srinivasan, Chief Executive Officer of Tractors and Farm Equipment Limited (TAFE).
Of 877 PGP students, 275 were from the Mohali campus and 602 students were from the Hyderabad campus of the ISB.
The graduation day commenced with a ceremonial procession led by the Dean. The school also celebrated the accomplishments of its students and gave away awards to those who excelled in academics, extra-curricular activities and those who had demonstrated exemplary leadership skills throughout the year and to the best faculty.
Addressing the students, chief guest Mallika Srinivasan shared nine tips, terming those as 'Navaratnas' for their success. "Let passionate diligence be your mantra to success. There is no substitute for hard work. When you love what you do, it doesn't feel like work and as your love grows, you'll find yourself doing better and better," said Srinivasan.
Harish Manwani, Chairman of the ISB Executive Board; Sunil Kant Munjal, Chairman, Mohali Campus Advisory Board; and Dean Rajendra Srivastava were present at the occasion.
Dean Rajendra Srivastava congratulated the student and wished them good luck. The celebrations ended with the ceremonial hat toss by the elated students.
Top News
In Mizoram, Zoram People's Movement is locked in close race ...
According to Defence Ministry, 98 per cent of the total proc...
India has constituted a probe team to investigate allegation...
Nikhil Gupta, 52, has been charged with murder-for-hire in c...
GDP growth in the first quarter of current fiscal — April-Ju...