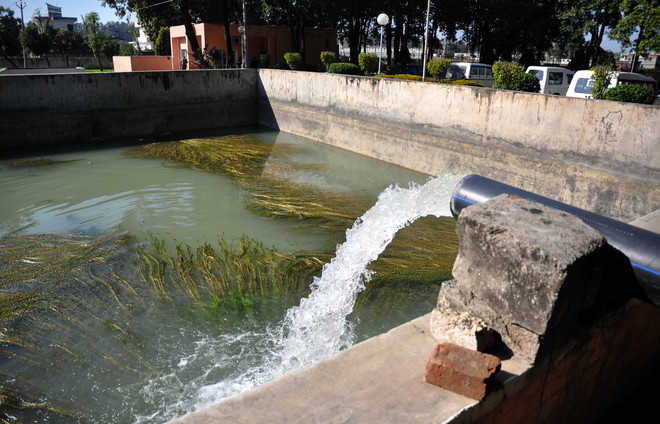 Akash Ghai
Tribune News Service
Mohali, February 19
While Chandigarh is all set to get 29 MGD extra water from Phase 5 and 6 of Kajauli water pipeline, Mohali residents will have to wait for at least one more year to get its share (5 MGD) from it.
Reason: The construction work on the main pumping station and water treatment plant (WTP) at Sinhpur village here is yet to take off. Also, the new pipeline to supply water from the Sinhpur plant to various parts of the town and the district is yet to be laid.
The Greater Mohali Area Development Authority (GMADA) Chief Engineer Sunil Kansal said the tendering process for the construction of 20 MGD WTP at Sinhpur village had already started. "We have invited tenders and opening of technical bid will take place on February 28. We have been given an 18-month deadline for completion of the project," Kansal said.
The GMADA has already acquired 35.22 acres of land at Sinhpur village for the purpose.
When asked about the new pipeline, which has to be laid to supply water from WTP at Sinhpur to Mohali areas, Kansal said decision in this regard was yet to be taken. "We will decide about laying of new pipeline to supply extra water to Mohali areas once the construction work of WTP begins, said Kansal.
"The work to connect old water chamber with a new water chamber at the Kajauli waterworks is on. The Phase 5 and 6 pipeline has been connected with the new water chamber, which after getting connected with the old water chamber, will start supplying water to the new pipeline (Phase 5 and 6)," said an official. The work to connect both water chambers was being carried out by Punjab Irrigation Department, he said.
So far, the tricity, including Chandimandir Cantonment, have been getting 80 MGD water through Phase 1, 2, 3 and 4 pipelines. The water has been shared between Chandigarh, Mohali, Panchkula and Chandimandir Cantonment as per the arrangement of sharing water, decided at a meeting chaired by the then Union Home Minister on July 6, 1983.
Now, with the starting of the Phase 5 and 6 pipelines, there will be an additional 40 MGD of water to the current water supply.
---
New pipeline and water sharing
In the first phase, the new pipeline of Phase 5 and 6, which has total capacity of 80 MGD, will bring 40 MGD of water of which Chandigarh will get 29 MGD, Mohali 5 MGD and Panchkula and Chandimandir 3 MGD each. As Mohali is not able to get extra water, its share (5 MGD) will be divided between Chandigarh, Panchkula and Chandimandir Cantonment, an official claimed.
1983 arrangement
According to the arrangement of sharing water, decided at a meeting chaired by the then Union Home Minister on July 6, 1983, 20 MGD of water from the Bhakra main line was to be distributed as under:
Chandigarh: 14.5 MGD
Punjab (for Mohali): 2.5 MGD
Haryana (for Panchkula): 1.5 MGD
Chandimandir Cantonment: 1.5 MGD
At a meeting held on March 10, 1989, which was chaired by RP Ohja, the then Chief Secretary of Punjab, it was decided that the same pattern of distribution of water would be adopted for Phase 2 and 3 pipelines. Similarly, for Phase 4 pipeline, the same pattern was adopted.
Top News
This comes amid a diplomatic row between India and Canada ov...
Was speaking to Indian journalists in Washington
Granthi Giani Jaswinder Singh from Pine Hill Gurdwara in New...
Heavy security deployed to deal with the situation
Head Constable Chaubey Singh, Constable Omveer Singh and Con...