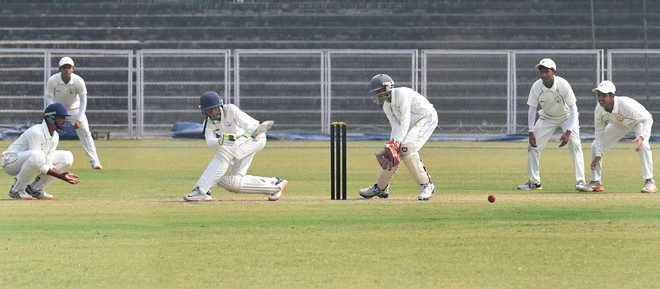 Tribune News Service
Chandigarh, October 17
Pratham Sodhi and Ansh Khosla shared seven wickets between them as Chandigarh bundled out visitors J&K for 167 runs on the opening day of their U-16 Vijay Merchant Trophy match at the Sector 16 stadium here today.
At the end of the day's play, the hosts were in a bit of trouble at 2/1, with opener Arnav Bansal falling to Azhar Wani for naught.
Earlier, the visiting batsmen failed to put up a formidable total on board after skipper Udhay Pratap Singh opted to bat.
Rohan Gill, Akshit Gandral, Achintya Khajuria, all started off well but could not build on their innings to provide the much needed push to the J&K innings.
Opener Gill faced 45 balls for his 18 before he was caught by Aaryan Verma off Sodhi, while Khajuria was trapped in front of wickets by Paras after scoring 23 runs off 97 balls.
Gandral showed some promise and looked at ease against a disciplined Chandigarh attack as he closed-in on a half-century before throwing away his wicket to a loose shot. His 93-ball 48 was studded with eight boundaries.
Udhay Pratap Singh also fell to his impetuosity. The skipper was cleaned up by Sodhi after he smashed 12 runs off 11 balls.
J&K tail wagged a bit, but Chandigarh bowlers ensured that their batsmen did not have to chase a big total.
Sodhi returned with figures of 4/29, while Khosla picked 3/47. Neel Dhaliwal (1/17), Ivraj Ranauta (1/28) and Paras (1/20) took a wicket each for the hosts.
Brief scores
J&K 167 all out (Akshit Gandral 48, Achintya Khajuria 23; Pratham Sodhi 4/29, Ansh Khosla 3/47) vs Chandigarh 2/1 (Kabir Kalsi 1*; Azhar Wani 1/1)