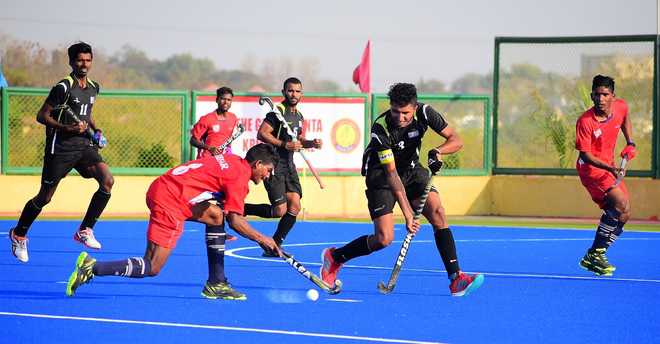 Tribune News Service
Chandigarh, February 20
Chandigarh boys continued their unbeaten run in the ongoing 9th Hockey India Junior Men National Championship 2019 (A Division) as they came from behind to held Punjab to a 2-2 draw in Aurangabad on Wednesday.
Arshdeep Singh and Hashim scored a goal each to help Chandigarh stay at the top of Pool A with seven points from three matches.
Jaspreet Singh put Punjab ahead through a penalty corner in the fifth minute, but Arshdeep helped Chandigarh restore the parity in the 21st minute. Punjab were once again in the lead when Sudarshan Singh sound the wooden plank in 54th minute. Hashim, however, scored the equaliser for Chandigarh in the 59th minute.
Earlier, Chandigarh had drubbed Himachal Pradesh 7-2, while they registered a 7-4 win over Services Sports Control Board.
In another Pool A match, Hockey Unit of Tamil Nadu defeated Services Sports Control Board 4-1 to secure their second win of the competition.
K Tiras (30th, 32nd) struck twice, while M Senthil Kumar (29th) and S Karthi (33rd) contributed a goal each to Tamil Nadu's tally.
Manjeet scored the solitary goal for Services Sports Control Board in the eighth minute.
Haryana beat MP 2-1
Meanwhile, in a Pool B match, Hockey Haryana scored their third successive win in the tournament as they overcame Madhya Pradesh Hockey Academy 2-1.
Mohammad Alishan scored the opening goal for Madhya Pradesh in the eighth minute, but Rimanshu (42nd) and Pankaj (53rd) scored a goal each to seal a 2-1 win for Haryana.
Rabichandra Moirangthem (27th, 34th) and Ricky Tonjam (39th, 44th) scored a brace each to help Manipur Hockey hand a 5-0 drubbing to Hockey Jharkhand and record their second win in the championship.
Skipper Rohit Irengbam added to Manipur's tally in the 48th minute.
UP hold Gangpur
Uttar Pradesh Hockey played out a 2-2 draw against Hockey Gangpur-Odisha in Pool C.
UP boys took the lead through Uttam Singh in the eighth minute, but Hockey Gangpur-Odisha's rallied ahead with strikes from Albret Tete (24th) and Sudeep Chirmako (44th).
Sahabaz Khan (59th) scored in the dying minutes of the match help Uttar Pradesh salvage a 2-2 draw.
In another Pool C match, Delhi Hockey beat Hockey Maharashtra 1-0. Prashant scored the only goal of the match in the 22nd minute.
In the last match of the day, Sports Authority of India (SAI) overcame Hockey Bihar 2-1. Manish Yadav (7th) and Dilip Pal (44th) scored a goal each for SAI, while Sajan (54th) struck once for Bihar.
Top News
The minister's comments come against the backdrop of the US ...
Describing the allegations levelled by Justin Trudeau agains...
Raids 51 places in Punjab, Haryana, Rajasthan, UP, Delhi
Ashwani Kumar's work on potential reduction in TB treatment ...
The 22-year-old breaks British shooter Seonaid McIntosh's wo...