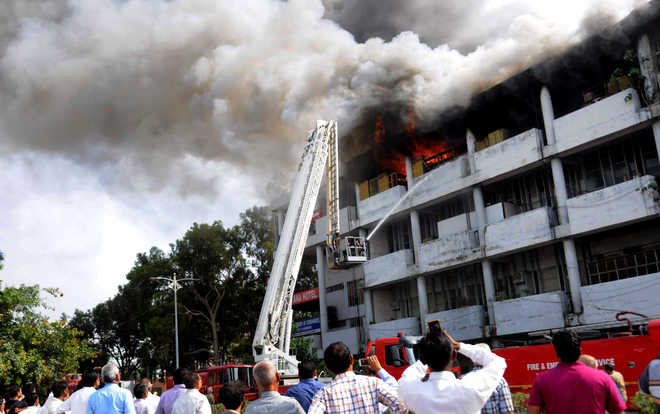 Tribune News Service
Chandigarh, July 6
The Municipal Corporation has decided to construct two more fire stations in Sector 53 and IT Park. This was stated by Asha Jaswal, Mayor, at a meeting of the Fire and Emergency Department.
Ravi Kant Sharma, chairman, Fire Committee, MCC, Dr Shilpy Pattar Dutt, Joint Commissioner-cum-Chief Fire Officer, and all station fire officers, along with sub-fire officers, were also present during the meeting.
The Mayor directed all officials to strictly follow norms while issuing NOCs to building owners and apprise the public of fire safety. The Mayor also asked them to distribute pamphlets spreading awareness on fire safety in the markets of Sector 19 and Sector 22, Chandigarh. She also ordered mock drills in these markets.
The recent fire incident at the Punjab Financial Commissioner office, Sector 17, Chandigarh, was also discussed. The chairman, Fire Committee, suggested to issue notices to building owners and occupiers for violation of fire-safety norms. ML Sharma, SFO-17, said the CFSL was ascertaining the reason behind the fire. The Mayor appreciated the Fire Department for its promptness during the Baddi fire incident. The Chief Fire Officer said audit of all government buildings would be done by the Fire Department. The fire officials said at the RBI meeting chaired by the Home Secretary, Chandigarh Administration, it was decided that there should be a fire-vehicle zone in Bank Square to avoid the recurrence of such incidents.