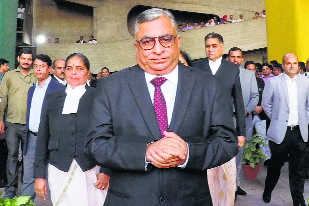 Tribune News Service
Chandigarh, September 20
Just over a year after he was transferred to the Punjab and Haryana High Court as the Chief Justice, Justice Krishna Murari was today given a warm send-off by the Bench, the Bar and employees on the eve of his departure following his elevation to the Supreme Court.
Hundreds of employees lined up on the ramp overlooking the portico as the outgoing Chief Justice was flanked by High Court judges and other judicial officers. There was nothing to stop the employees as they surged ahead to present flowers to the Chief Justice.
Chief Justice Murari walked with folded hands amid the jostling crowd to receive the guard of honour.
The judges and the employees then escorted the Chief Justice to his official car before the judges gave the customary gentle nudge to the vehicle as a farewell gesture. Among them were Justice Rajiv Sharma, Justice Rakesh Kumar Jain, Justice Rajan Gupta, Justice Fateh Deep Singh, Justice Arun Palli and Justice Arun Monga.
When he took over as the Chief Justice in June last year, there was no way anyone could have guessed his constant endeavours would lead not just to greater transparency in the system, but also bring justice closer to the people.
Extremely conscientious about his work, Chief Justice Murari was polite outside the courtroom, and hardly any different inside. His grace and graciousness earned him great respect and soon made him popular, both among the Bar and the Bench.
Additional e-courts services were launched for enabling litigants to be conversant with the details of their cases. Logging on to a new system of reducing the presence of litigants in the court and adjudication of the cases online, Chief Justice Murari also launched the first "Virtual Court" at Faridabad for reducing the burden on regular courts. The system enabled the entire process of disposal to take place online.
Justice Murari had also launched a project of digitisation in subordinate courts at 11 pilot sites in Punjab, Haryana and Chandigarh for reclaiming about 4 lakh sq ft occupied by judicial records. The High Court, under Chief Justice Murari, also launched of a slew of measures to cut down on paper wastage, including new printing parameters for annually saving about 1.50 crore papers.
The senior-most Judge of the Punjab and Haryana High Court, Justice Rajiv Sharma, is, meanwhile, expected to be notified as the Acting Chief Justice after Justice Murari takes oath as the Supreme Court Judge.
Says city is beautiful indeed
Chief Justice Krishna Murari on Friday said if there was one place he would prefer after Allahabad, it was Chandigarh. Addressing a gathering of lawyers during a function organised to bid farewell to him on the eve of his elevation to the Supreme Court, Chief Justice Murari described Chandigarh as the City Beautiful indeed. He said he had spent over two decades in Allahabad, but the love he received in Chandigarh was no less.
Top Stories