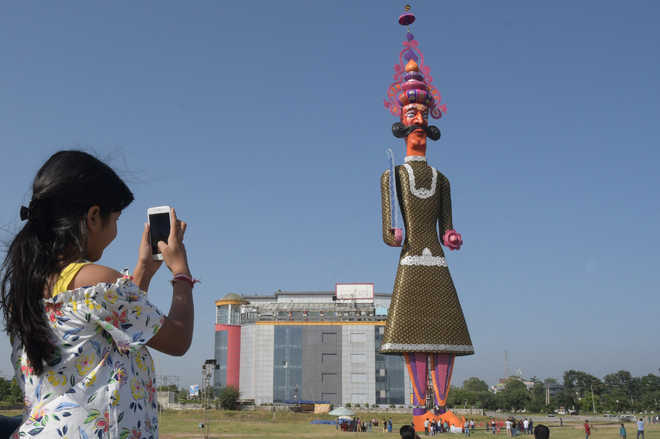 Nitish Sharma
Tribune News Service
Ambala, September 15
The Shri Ramlila Club, Barara, is all set to break its own record of making a 210-foot-tall effigy of Ravana by increasing its height by another 11 ft this year. The club has been making effigies of Ravana since 1987. Initially, it was 20 ft tall. Every year, the height of the effigy was raised and it touched 210 ft five years ago. The effigy has made it to the Limca Book of World Records five times consecutively for its height.
Speaking to The Tribune, Tejinder Chauhan, president of the club, said: "The height of the effigy is going to be 221 ft this year and it will be erected in Chandigarh. We will break our own previous Limca Book of World Records. The height of the sword has also been increased to 55 ft from earlier 50 ft. The effigy is being prepared at a cost of Rs 30 lakh. As the height is being increased, the cost has also increased by Rs 4 lakh. The effigy will weigh around 70 quintals." However, disappointment for Ambala residents continues as the five-day Barara festival, which used to be a major event during Dasehra, has become a thing of the past. This year, the festival will be celebrated in Chandigarh due to the unavailability of a big ground in Ambala.
Last year, the festival was celebrated in Panchkula in collaboration with Mata Mansa Devi Charitable Trust for the same reason.
The event used to be attended by thousands of people, politicians and officials, but there was no dedicated ground for the Dasehra festival.
Chauhan said: "Due to space constraints, the festival was shifted to Panchkula last year. In view of space shortage, this year it will be celebrated at a ground near the Marble Market, Dhanas, in Chandigarh in collaboration with Shiv Parvati Sewa Dal of Chandigarh. The effigy will be erected on October 2. The face is being prepared in Barara, while other parts of the effigy have been brought to Chandigarh, where these will be assembled."
Rajender Singh Samant, president of Shiv Parvati Sewa Dal, said: "It will be a six-day event. There will be religious events only. We will also spread awareness about the ill-effects of drugs, female foeticide, cruelty to animals and social evils. A blood donation camp in memory of martyrs is also being planned."