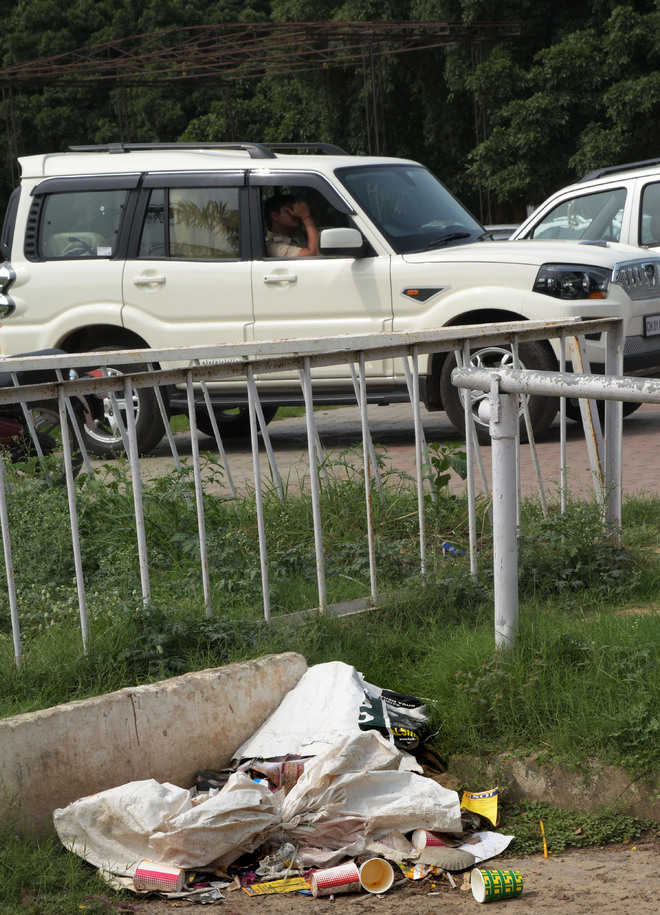 Ishrat S Banwait
Tribune News Service
Chandigarh, July 2
To ensure that Panjab University campus remains 'swachh', cleanliness in- charge of each building will be made. The idea is to have a designated head of cleanliness in each building of the PU, including academic and administrative ones. The in-charge will keep a check on the hygiene of washrooms, regular sweeping and overall cleanliness of the building.
Dean University (Instruction) Meenakshi Malhotra said, "Currently, no one takes responsibility of cleanliness in their building. A designated in charge will ensure that the building does not lack on the cleanliness front. The in-charge will be a teacher in case of academic departments and will be changed from time-to-time on rotation-basis."
The primary job of the cleanliness in-charge will be to overlook work of sweepers and cleaners. He will ensure that the
sweeping is being done regularly. Also, he will ensure that there are ample dustbins in the building and if not, he will make sure that they are placed. Another important job of the in-charge will be to maintain hygienic and clean washrooms in the building.
The major challenge will be the cleanliness of hostels, especially the washrooms which are plagued with water shortage in summers. After cleanliness, the problem of waste disposal will also be a challenge as even now heaps of garbage can be found on the campus.
It indicates that after sweeping, collection of garbage is poor.
The university has installed green and blue bins in many areas following the UT move of segregation of wet and dry garbage. Once again, the challenge will be to implement the system well. Another great challenge will be the student elections when littering covers complete roads. A ban or fine on littering of party material needs to be imposed to keep a check on such practices.
In 2014, the UGC had asked the university to keep its campus clean and the varsity had made a committee for the same. The PU had allocated Rs 40 lakh for implementation of the 'Swachh Bharat Abhiyaan' for the last financial year.
Top News
With the induction of five more ministers, the strength of B...
Supreme Court judge bats for mandatory regulation of social ...
Two-day special Maharashtra Assembly session begins
Two AK series rifles, seven grenades and pistol recovered fr...
BJP's next round of growth will come from South India, says ...