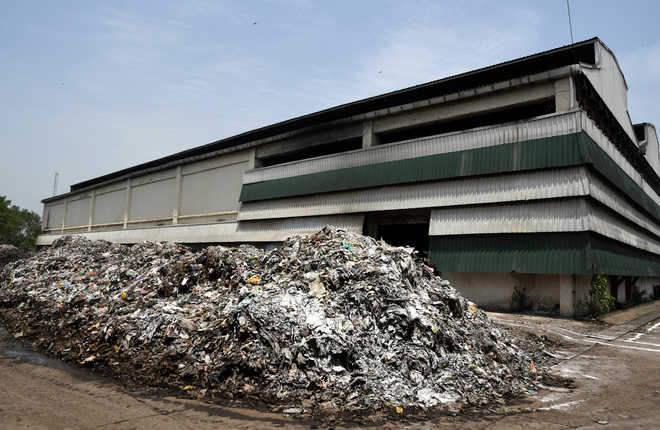 With the Chandigarh Municipal Corporation (MC) toying with the idea of slapping penalty on residents invoking the Solid Waste Management Rule 2018 mandating the segregation of solid waste material and handing the same to door-to-door collectors is absolutely unwarranted. The dispensation, instead of proposing the fine for violations, needs to look up for alternatives to improve the solid waste management in the tricity. The MC will do well by roping in the residents' welfare committees to contribute their mite in checking the menace. Sector-wise general awareness campaigns aimed at disseminating the ground message may help check the littering of solid waste on roads or elsewhere in the open and help live 'healthy and happy' in filth-free environs. Random checks on the litterbugs under the supervision of municipality staff and even elected representatives can also help.
Ramesh K Dhiman, Chandigarh
---
Will court come to our rescue?
I live in Sector 46 for the past 36 years. I haven't seen any "door to door" collection of garbage by the MC till date. We have engaged private garbage collector, who initially used to charge Rs 5 per month and now, we are paying Rs 100 per month for the same. Will the MC pay us back all the money we had paid to the private garbage collector since 1982 first? Because it is the duty of the MC to collect and dispose of garbage collected from door-to-door and not of the citizens, who pay all the taxes. Simply issuing threatening statements without performing its on duty is ridiculous and unjustified, and even illegal. Will the High Court come to the rescue of the citizens in this regard?
RK Kapoor, Chandigarh
---
Follow BIS standards
The major problem in dealing with the solid waste is lack of education and awareness regarding its collection. This problem can be solved to a great extent if we follow the standards developed by the Bureau of Indian Standards (BIS) on this issue. The Indian Standard IS 16557:2016 clearly prescribes guidelines for the segregation, collection and utilisation of the solid waste generated at household and/or community levels. This standard can be taught at the school and college levels. Moreover, to solve this problem, educational programmes must be arranged in educational institutions and society. Training programmes should be organised for garbage collectors.
Anju Behl, Chandigarh
---
Penalties must be imposed
It is appreciable that the Municipal Corporation has adopted solid waste bylaws. To achieve 100 per cent result penalties are must for the violators. Go back to the Surat, when plague spread in the city. The Commissioner introduced penalties on violators and ultimately Surat became the cleanest city of India.
OP Garg, Chandigarh
---
Facilitate waste segregation
The local authorities should largely involve garbage collectors and residents to make such initiatives successful. I don't see much awareness among the people when it comes to garbage disposal. Fines are acceptable once there is a proper mechanism to facilitate segregation of the waste.
Sikander Singh, Chandigarh
---
Waste collectors don't come
Though mandatory, door-to-door waste collectors are not coming. Old system of garbage collection by private persons continues in the town. First, it should be implemented strictly then question of penalising comes.
IPS Anand, Mani Majra
---
A superficial idea of the MC
Solid Waste Management Rules, 2018, adopted by the Chandigarh Municipal Corporation, specify penalty for any violation. Accordingly the MC has geared up to fine violators of these rules. It seems to be a superficial idea of the MC. Solid waste management means segregating dry and wet garbage. It enables quick disposal of the waste in eco friendly way. It will be better if rules are implemented in a phased manner across the city. Start from some sectors, take residents feed back, solve their and the cleaning staff problems, upgrade the system and then implement it in other places. Mere challaning cannot guarantee the success of the scheme. Have a dedicated number for receiving feedback and problems of the residents.
Dr Rajeev Kumar, Chandigarh
---
Adhere to waste segregation
Perhaps most of us are not aware that 25 to 30 per cent of the waste is being treated and the rest is being dumped in landfills. In the long run, it will pollute our food, water and even the air we breathe. The civic authorities did a good job in providing bins to every household for segregating the waste before passing it on to collectors. It should be strictly adhered to. There is an urgent need of another waste processing plant in the city.
Harish Kapur, Chandigarh
---
Campaigns not the key
It's time to reform our ways of waste management as pollution levels are increasing at an alarming pace. Residents should not throw trash in the open or in surrounding places. Garbage should always be disposed of in covered bins and given to collectors on daily basis to avoid stink and breeding of insects. Waste should be segregated. Clean society makes a clean city. The responsibility to make our land clean and green lies on the citizens. Violators should be fined so that others do not break rules. Cleanliness should not be restricted to campaigns or workshops, but should be a regular habit of each citizen to keep his home, society and city tidy.
Rashi Srivastava, Chandigarh
---
MC oblivious of reality
As per solid waste management rules, segregation of waste at the source is mandatory. Penalty is envisaged for non compliance of segregation, which will promote 'inspector raj' and corruption. The Chandigarh civic body is far behind the ground reality and turning a blind eye to the pre-requisites involved. Requisite containers for segregated waste should be provided to producers as well as collectors. Dedicated mass awareness programmes for public need to be organised by the MC by involving NGOs and RWAs, besides training collectors before going ahead with penalty provisions.
Renu Rajinder Pal Singh, Chandigarh
---
A distant dream
Under the solid waste management rules it is mandatory that domestic waste is segregated at the source. Garbage has to be sorted into biodegradable, dry, domestic hazardous waste and stored in three different bins before handing over to the door-to-door collector. The compliance of the waste segregation at the source is a distant dream and poses a big challenge to residents and those living in slums. It is essential to first educate the public and create massive awareness before imposing penalty on defaulters.
RPS Chopra, Mani Majra
---
Implement rules strictly
Reducing quantity of waste is of paramount importance. We must discard greed both for consumable and durable goods. Ban on use of polythene bags is being openly flouted. Strict implementation of rules is required to tackle the problem. Solid waste can be scientifically managed in engineered landfills having provision for segregation, composting organic matter, treating leachate and trapping harmful guesses. People should also discard their NIMBY (not in my backyard) attitude to facilitate finalisation of sites for treatment and disposal.
DR Kapoor, Panchkula
---
Garbage collection is primitive
Management and disposal of the solid waste is a major concern for the civic authorities. It needs scientific approach and adequate awareness amongst the public. Emphasis should to be laid on segregation of the bio degradable and non-degradable waste at the domestic level. The present door-to-door collection by manually operated open carts is not only primitive, but most unhygienic. It needs to immediately change to covered garbage collection vans visiting each locality on fixed days of the week.
SS Arora, Mohali
---
COMMENT
Only collective effort, not fine, can help
Nitin Jain
BE prepared to shell out Rs 200 as fine should you fail to segregate waste at your house. Penalty would also be imposed if you fail to give your household waste to the door-to-door collector. And should you fail to deal with your horticulture waste, cough up Rs 200 more.
Not that the full stop comes here. Littering would attract a penalty of Rs 5,000. Clubs and hotels would be fined Rs 10,000 for such violations and vendors too would not be spared. Door-to-door waste collectors would be slapped a fine of Rs 2,000 in the residential areas and Rs 10,000 in non-residential areas, in case they fail to do their job well.
These seemingly harsh provisions are contained in the Solid Waste Management Bylaws 2018, the Chandigarh Municipal Corporation approved, at its last meeting. Ostensibly, these have been framed with a view to making Chandigarh the cleanest city in the country. In the last three annual cleanliness surveys, Chandigarh ranked second in 2016, 11th in 2017, and third in 2018.
The 'Swachh Bharat Mission', Prime Minister Narendra Modi launched on October 2, 2014, to create 'Clean India' is in its last year of implementation before it concludes on October 2, 2019, to coincide with the 150th birth anniversary of Mahatma Gandhi, the Father of the Nation, to whom this national cleanliness drive has been dedicated.
No doubt every resident wants Chandigarh to top the tables and rank the cleanest city of India, but penalising them surely is not the only way to achieve the goal. Instead, collective effort should be made by the civic body and the residents to top the final cleanliness survey next year.
Presently, the MC is not able to ensure proper management and processing of solid waste with the lone garbage processing plant not doing enough, and the civic body failing miserably even after locking horns with the private firm, which runs it. Moreover, crores of rupees have gone down the drain in purchasing and distributing small-sized dustbins the MC introduced to launch waste segregation project. Though launched and re-launched thrice, it is yet to take off.
The way forward for the MC is to ensure proper and scientific collection and management and processing of the 450 tonnes of solid waste generated daily. Waste segregation ought to be done efficiently right at the source. Effecting behavioural changes to adopt healthy sanitation practices, generating awareness about sanitation and linking it with public health, creating an enabling environment for the private sector participation, elimination of open defecation and manual scavenging, and capacity augmentation are some of the milestones on the road that would lead to India's cleanest city.
---
Deploy adequate civic body staff
While there is a need to deter people from littering in public places under an appropriate law, the Municipal Corporation's response to garbage disposal and management has only been casual. Over Rs 2 crore has been wasted on buying small 'dustbins', which are useless for the purpose. Segregation is being mandated without making appropriate arrangements. For efficient management, the MC should itself employ adequate staff for door-to-door collection of segregated household waste in suitable and prescribed bins at nominal cost. The civic body already levies house tax, sewerage and cow cess. Now, it plans to impose municipal cess.
Pawan Kumar Bansal, former Union Minister
---
A major challenge for MC
The initiative of the Chandigarh Municipal Corporation (MC) is a serious attempt to manage waste in the city. Even otherwise also, disposal of the garbage has become a major challenge to the civic body. Segregation of waste on a large scale is not possible. It can be done easily at the source level. The MC should make the people aware of their responsibility through campaigns. I am confident that residents of the city, who are well educated, will respond positively. Penalty should be the last resort and not the first.
Satya Pal Jain, former Chandigarh MP
---
Penalise officials for laxity
The Municipal Corporation is not serious about the issue. The UT Administrator started the drive of waste segregation one-and-a-half-years ago with much fanfare. Bins worth crores of rupees were distributed among residents, but the project remained only on paper since then. There is no accountability and responsibility of officials concerned. Instead of levying penalty on residents, a fine should be imposed on officials, who have failed to implement the solid waste management rules for years altogether.
Harmohan Dhawan, former Union Minister
---
Penalty is justified
Peoples support is also required for the success of any scheme launched by the Chandigarh Administration or the Municipal Corporation. The cleanliness drive needs equal participation from the residents. As far as penalty is concerned, it is justified as there is a need to check those persons who are least bothered about cleanliness. The penalty for littering is prevalent all over the world. That is why residents of other countries think twice before littering in public places. We should also contribute our best to make the city proud.
Sanjay Tandon, Chandigarh BJP president
---
Handle violators sternly
Imposing penalties for violations in connection with the solid waste disposal is a right step. I must say, we are spending a lot on solid waste management in Mohali, but the outcome is definitely not up to expectations. Our MC authorities need to pull their socks and start handling the violators sternly.
Balbir Singh Sidhu, Punjab Animal Husbandry Minister
---
Waste segregation is mandatory
The residents should not be fined for violating the rules. It will be too harsh for them. But segregation of garbage can be made mandatory for commercial establishments, hotels, restaurants and industrial houses, which are the bulk generators of waste. The department concerned should spread awareness among residents on waste segregation. The Panchkula MC is doing the same in the town.
Gian Chand Gupta, Panchkula MLA
---
Will follow in UT's footsteps
Sanitation and solid waste management are issues of utmost importance. The UT authorities' step of checking violators with fine is definitely a good way. We will also imitate the step by bringing the issue of imposing fine on violators in our MC House meeting soon.
Kulwant Singh, Mohali Mayor
---
Penalty is not a solution
There is a need to implement the comprehensive policy for solid waste management for the entire city. Presently, the sanitation work in the city is being taken care of separately in colonies, villages and sectors. Imposing penalties is not a solution to any problem. It is the primary responsibility of the MC to manage solid waste. The BJP government has made Chandigarh an experimental city where they can try to implement policies, which have failed in other states.
Pradeep Chhabra, Chandigarh Congress president
---
Improve door-to-door collection
First of all, Chandigarh MC should set its own house in order rather then list out responsibilities of the residents. Imposing penalties will not be enough to ensure compliance of the solid waste management rules. There is a need to improve door-to-door collection system as presently it is under the control of private persons. The MC has no control over them. Besides, the size of bins has to be increased. Bins distributed recently are too small to be used for the segregation of waste.
Devinder Singh Babla, LoP, Chandigarh MC
---
Residents' support is required
The Municipal Corporation has prepared a comprehensive plan under "Chandigarh benega swachhata mein number one". The city was ranked No. 3 amongst 4,203 towns in India last year. This year, we all will work to make the city No. 1. For achieving this target, active support of the residents is required. While the MC has planned several new projects for the better management of the solid waste, fines and fees have been proposed to deter those, who are not participating for the good cause of the city.
Kamal Kishor Yadav, Chandigarh MC Commissioner
---
Penalise industrial houses
The awareness and sensitisation part is must. The authorities should use every possible method to spread awareness among residents, be it radio, television, newspaper or pamphlets. There should be some time period for creating awareness and then penalties should be imposed on violators. Industrial houses are aware about rules and these should be penalised immediately for any violation.
Rajesh Jogpal, Panchkula MC Commissioner
Top News
Public has returned Rs 3.42 lakh crore or 96 per cent of the...
This comes amid a diplomatic row between India and Canada ov...
Doraiswami was on Friday stopped by a few radicals from ente...
Rinda died due to alleged drug overdose at a military hospit...
Protesters were holding their agitation against the Centre i...