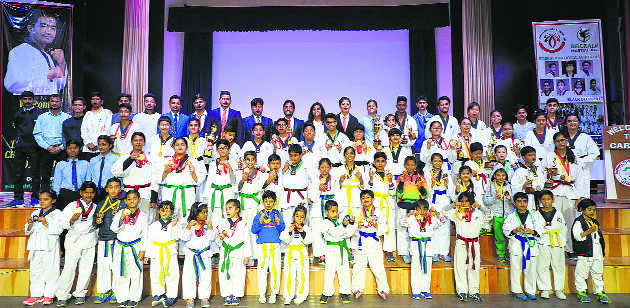 Tribune News Service
Chandigarh, January 29
Daanish Bhandari clinched the boys' U-11 title in the 4th GTA Cup Open Taekwondo Championship, which concluded at Carmel Convent School on Sunday. The girls' U-11 title went to Archisha.
Ishita Sharma dominated the field in the girls' U-14 category, while Deepanshu Chauhan clinched the boys' title.
Over 300 students from 18 different academies and schools participated in the two-day championship organised by Emerald Martial Arts.
The competition was held in three events --- poomsae, breaking and kyorugi (fight), the orgnisers said, adding that athletes from three to 22 years of age participated in the event.
Top News
Sudha Yadav, Iqbal Singh Lalpura included in both key commit...
Security forces had on Sunday located a group of two to thre...
Doval is a 'Z plus' category protectee under the central VIP...
Kajal is MLA from Kangra while Lakhwinder Rana is MLA from N...
Centre tells SC that it's in active discussion with FIFA to ...