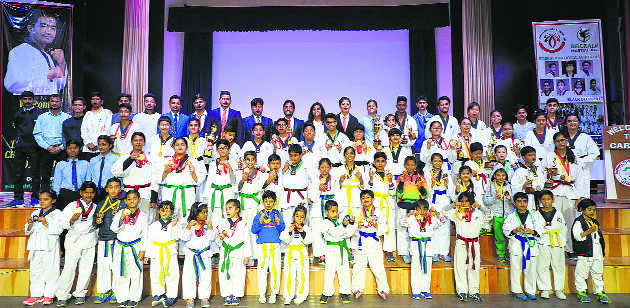 Tribune News Service
Chandigarh, January 29
Daanish Bhandari clinched the boys' U-11 title in the 4th GTA Cup Open Taekwondo Championship, which concluded at Carmel Convent School on Sunday. The girls' U-11 title went to Archisha.
Ishita Sharma dominated the field in the girls' U-14 category, while Deepanshu Chauhan clinched the boys' title.
Over 300 students from 18 different academies and schools participated in the two-day championship organised by Emerald Martial Arts.
The competition was held in three events --- poomsae, breaking and kyorugi (fight), the orgnisers said, adding that athletes from three to 22 years of age participated in the event.
Top News
Jaishankar said that the human bond between the two countrie...
Says the gurdwara is open to people from all communities and...
Arrested smugglers identified as Sarabjeet Singh of Jhalandh...
Resentment among Punjab Congress leaders over arrest of part...
One of the accused, Amarjot Singh Aroda, was arrested in Pun...