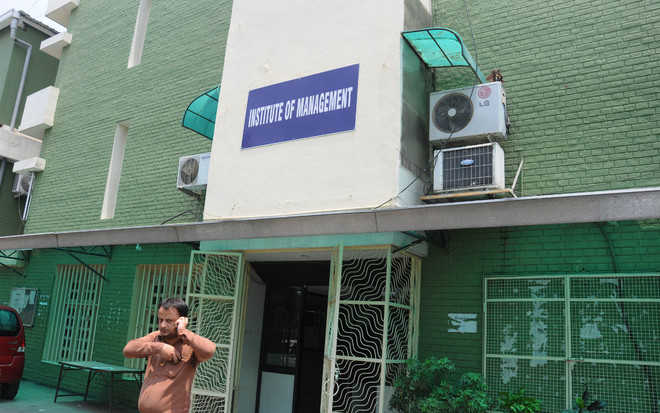 Ishrat S Banwait
Tribune News Service
Chandigarh, July 9
DAV College, Sector 10, is trying its best to start an MBA course from this session. However, it is trying to do so by manipulating rules. Going by the rules, the college requires a separate building in the form of a 'standalone institution' but DAV has created a block in the existing campus. The college says that they have separated it and is confident of getting the affiliation.
The rules say that for starting an MBA course, a standalone building should have a boundary wall and separate gate. It also means that the building will have to come up in a separate piece of land. However, the college has set up the block in four kanals of the existing 18-acre campus.
Another manipulation of rules is that DAV has not appointed any new faculty members for the MBA course which is required. It has 'transferred' its staff members to MBA which will also mean that there will be a shortage of four in the existing college. A member of the inspection committee has mentioned these in a dissent note which was submitted to the affiliation committee.
The affiliation committee comprising the PU Senate members has already raised objection on these issues. The other objections include that the college is yet to get permission for starting MBA from Director, Higher Education and that there is no boundary wall around the block.
When contacted, principal of DAV College Dr BC Josan said, "University Business School wasn't giving us land. We have now separated the block after the government passed a resolution for the same." He added that they had received the AICTE approval and were confident that they would start the MBA course from this session.
Survey committee to visit college today
The survey committee of the PU, which includes the registrar, among others, is set to visit the college today. The survey committee will check the issue relating to building, among others, and submit a report to the affiliation committee. The report will be of importance as it will tell the affiliation committee whether the norms are being followed or not.