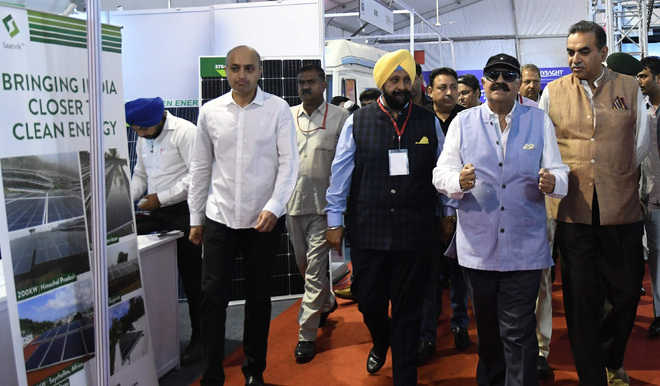 Tribune News Service
Chandigarh, September 14
Speaking at the inauguration of the seventh edition of the Archibuild – Ins & Outs Exhibition, Governor of Punjab and the UT Administrator, VP Singh Badnore, said, "We should take pride in our city, which is designed on French pattern by a Swiss-French Architect Le Corbusier."
"Chandigarh was declared World Heritage by UNESCO in 2016. So, it is counted as one of the most beautiful cities in the world," said Governor.
"Living up to Chandigarh's reputation and standards, we are working on solutions pertaining to traffic, parking and living without tempering the originality and beautification of this city's identity," he added.
PHD Chamber of Commerce and Industry organised Ins & Outs, a three-day exhibition-cum-conference in association with Indian Institute of Architects and Indian Plumbing Association.
Present on the occasion as guest of honour were Sanjay Tandon, state president, BJP. While sharing experience of his recent visit to China as a part industry delegation he said, "There is a lot of learning within the two nations to strengthen construction sector." Tandon emphasised the need of water conservation and construction accordance to the climate change for better living for future generations.
In his address, Manmohan Khanna, chairman, Indian Institute of Architects (IIA), Chandigarh Chapter, said, "This three days exhibition and conference provides an excellent platform to all the stakeholders for knowledge sharing and learning. We as architect fraternity should take a responsibility to design and strengthen construction industry by making dwelling residents friendly."
Ranjeet Mehta, Principal Director, PHD Chamber said, "The construction sector has played a stellar role in economic development of the country in the past many years. As construction sector is the largest consumer of raw material and other resources, therefore, even a small improvement in productivity with adoption of innovative technologies and material will have a major impact on the economy."
"There is a need for adopting innovative and eco-friendly technologies and building material and such platform like Ins & Outs serve the purpose," he added.
The central theme of the event is "Innovation for sustainable future" where over 100 high profile exhibitors from all over India are participating to showcase their products and services.
During the conference, architects addressed the audience on topics "Architectural sustainability - Seeking inspiration from past to build environment friendly and sustainable future spaces", "Innovation for sustainable future", "Universal design - The future paradigm of the designed world" and "Revolutionary material and technologies for progressive architecture".