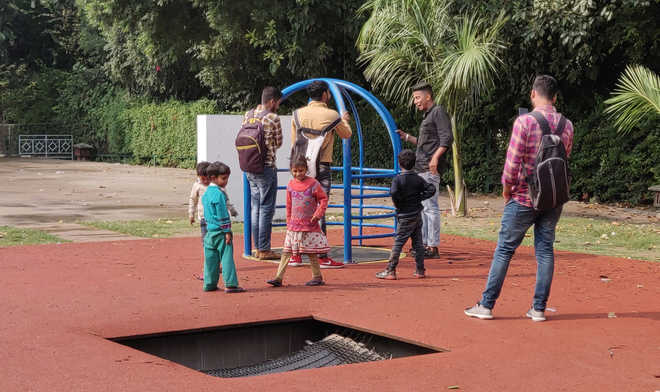 Tribune News Service
Panchkula, November 7
A first-of-its-kind in North India, Divyang Park at Sector 5 in Panchkula has been crying for attention as equipments installed there have been damaged. The park, meant for specially abled children, needs a specialised caretaker as equipments inside it are being misused by adults.
Cleanliness in the park is also a matter of concern as wrappers can be seen all over the park. Today, a group of youngsters, all in their 20s, was seen mishandling one of the play equipments meant to be used by specially abled children.
An elderly man sitting on a chair nearby said this happened every day and Divyang Park was badly in need of a caretaker. He said, "Many adults mishandle these equipments meant to be used by divyangs."
Divyang Park has been developed by METL and Reliance Foundation under the guidance of the Social Justice and Empowerment Department, Haryana.
It has been clearly mentioned in a notice put up by the authorities that the park is designed for children with special needs and also for other children to play together to promote inclusion.