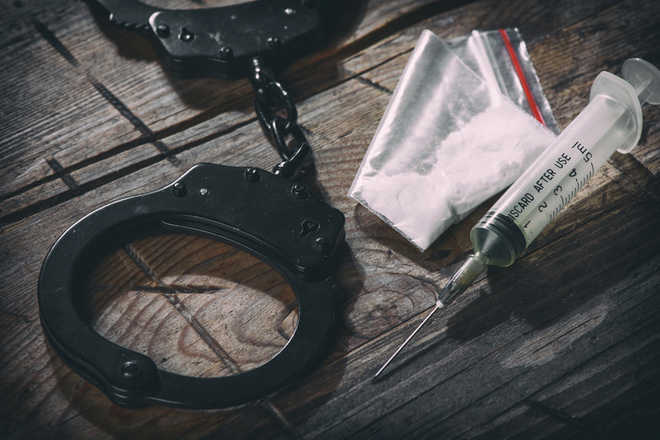 Amit Sharma
Tribune News Service
Chandigarh, July 24
The UT Police mean business and are serious about rooting out the drug mafia. The seizures made by it till July 15 testify the fact. In 2016, almost an equal number of recoveries were made by them.
This year, the police recovered 1,900 banned injections and arrested 24 persons, while 2,104 injections were recovered from 21 persons last year.
More the seizures, more the number of addicts in the city, it means.
The seizure of smack or heroin has also gone high. This year, 688.57-gm was seized and 44 arrested. In 2016, the UT police had recovered 453-gm smack/heroin and arrested 54 persons.
A large quantity of ganja was also recovered this year. From 27 persons, 55-kg ganja was recovered.
In 2016, 55.382-kg ganja was seized from 45 drug peddlers.
Eish Singhal, SSP, UT, said teams of the crime branch, operation cell and all police stations are gathering inputs to crack down on drug peddlers. "Repeated offenders are also being identified and they are under watch," the SSP added. The crime branch of the UT police, this year, arrested 29 persons under the NDPS Act. Twenty-three were held last year.
A SIT, constituted earlier this year, submitted a comprehensive list of drug peddlers in the city. It also identified a few places where drugs were being sold.
Sale of injections rampant in city
Banned injections are easily available in neighbouring states, as per a police official. Addicts from colonies and slum areas use these injections.
---
Three held with heroin
Three persons were arrested under the NDPS Act. Anil Kumar, a resident of district Jind, was arrested from near the Housing Board light point with 10.25-gram heroin. In another incident, Kala, a resident of Mauli Complex, was arrested with 33 banned injections. The third accused, Bhupender Pal, was arrested from Attawa Chowk, Sector 42, with 20 banned injections.
Woman arrested
The police have arrested a woman, identified as Manju, with 1-kg ganja. She is a resident of Phase I. A case has been registered.
Top Stories
Classes 5 & 8 students to be promoted