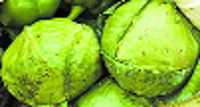 Sandeep Rana
Tribune News Service
Chandigarh, April 14
Calling it a misconception that eating cabbage can cause the deadly brain tapeworm (neurocysticercosis), top neurologists have said it is basically caused due to poor sanitation and eating pork which is not inspected.
"It is a myth spread by quacks. By a trick of their hand, they show people that they have taken out a tapeworm from the brain, which was caused by eating cabbage. It is a misconception. One should wash vegetables before cooking and one's hands before eating," said Dr Gagandeep Singh, Head, Department of Neurology, Dayanand Medical College and Hospital, Ludhiana, who was here for a neurology conference at the PGI.
Elaborating on the causes, Prof Gagandeep Singh said, "The tapeworm is, in fact, caused by sanitation issues, lack of toilets and meat (pork), if inspection is not done. It is a prolonged treatment in which epilepsy can be controlled through medicines. In rare cases, surgery is done. Of late, we have noticed a decline in neurocysticercosis cases due to initiatives such as the Swachh Bharat Abhiyan due to which open defection has been checked."
According to him, the waste that is thrown and the waste generated by defecation in the open is eaten by pigs. When the meat of that pig is eaten, if it is not inspected properly, it causes neurocysticercosis. It is basically a cycle.
Dr Rajveer Singh, Assistant Professor, Department of Neurology, PGI, said about 200 neurocysticercosis cases were reported each year at the OPD and the number had increased in the past few years. "We have seen a major increase in such cases, maybe because the PGI has more referral cases and many people come here for opinion," he reasoned.
"If you do not wash vegetables, then whether it is cabbage or potato, it may lead to brain tapeworm. So, it is important to properly wash the vegetables before cooking. Raw and uncooked food should also not be eaten. One should not visit quacks as at the PGI, we receive many cases where the treatment chances of patients are spoiled by them," he said.
Top News
The 58-year-old OBC leader served as minister for higher edu...
Article 370 was a temporary provision, says CJI as Bench pro...
NC leader Omar Abdullah expresses 'disappointment', but vows...
All newly elected MLAs told to compulsorily attend the meeti...
Rape survivor had visited King George's Medical University w...