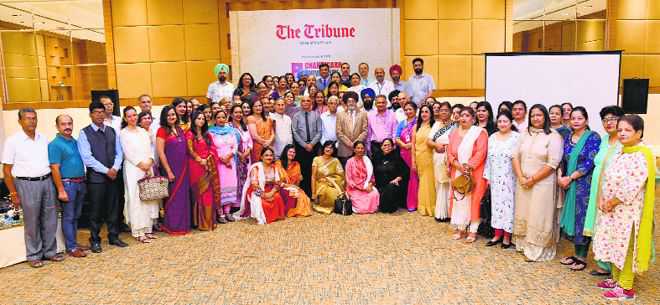 Tribune News Service
Chandigarh, October 14
The Tribune Group of Newspapers, in collaboration with Chandigarh University, organised a principals' meet here today at The Lalit Chandigarh to deliberate on 'Outcome-based education: Student-centric focus for future readiness'.
As many as 80 principals from tricity schools attended the event.
Chandigarh University Vice-Chancellor RS Bawa said, "Curriculum planning at the school level is important but even more important is how we deliver in classrooms. Outcome-based teaching is based on aspirations of the child and thus, there can be no uniform outcome for all children. It has to be different for each and every child."
Roopinder Singh, Associate Editor of The Tribune, while addressing the gathering said, "Very often, principals get bogged down in administrative work, but the real impulse is when you interact with students more and more. The foundation laid by school education is the most important thing in a student's life. The fundamental is value-based education that begins at school and makes the child curious and informed about the world. We need to be equipped for the future and most of us are not ready for it because the curriculum is not up to that level."
Singh added, "The Tribune is the voice of the people and you shape the voice. Let's create minds that are open to changes and challenges of the world so that they can tackle them better."
KK Bajaj, former Dean of College-cum-Director (CDC) and Controller of Examinations, Himachal University, emphasised the need for a paradigm shift in the education system from textual to outcome-based learning.
"The traditional model of learning was to equip the learner for a well-defined series of skills and abilities, which led to the importance of definable learning outcomes. This must change in the present scenario where learners have to be ready for a future that will bring with it new challenges and therefore, new opportunities if the individual is ready for it. This is possible through outcome-based education," said Bajaj.
Explaining what outcome-based education (OBE) is, he said, "It is a student-centric teaching and learning methodology in which the course delivery and assessment are planned to achieve stated objectives and outcomes, despite calendar constraints and attendance regulations. It focuses on measuring a student's performance at all levels."
"At present, the teacher thinks what to teach, how to teach, how much to teach and what to assess. With OCE, the approach is student-centric: What type of professional do you expect your student to be," he said.
Principal speak
Need child-centric outcomes, research-based exam
We are awaiting the New Education Policy for introducing changes in the school curriculum. As far as teaching is concerned, the emphasis should be on child-centric learning outcomes. These should be clear and well-defined so as to enable students to apprehend them. The exam system should be research-based. —Krit Serai, Director-cum-Principal, Satluj Group of Schools, Panchkula
Adopt approach of learning by doing
The outcomes-based approach in teaching is the need of the hour. Students must learn by doing rather than by rote learning. There should also be clarity of objectives on the part of teachers. —Anup Kiran, Principal, Shivalik Public School, Mohali
Need trained teachers according to times
In order to train students for a dynamic environment that we are in, there is a need to change the curriculum of BEd. We are not producing trained teachers. Teaching should be a well-paying job so that more proficient people are interested in it.—Gurnam Kaur Grewal, Principal, GNPS, Sector 36
Make students ready for the future
A bit of change in the curriculum is desirable, keeping in view, the dynamics today. We have to make students ready for the future. The curriculum should be practical-based and less theoretical.—Dr Jayata Auddy, Saupin's School, Panchkula
Teachers overburdened with syllabus
Other than scrapping a subject, omitting a few lessons, there is no major change in the syllabus. We cannot change the core curriculum unless the government decides on its own. We are so much burdened with the syllabus that there is hardly any time to focus on creativity.—Manju Sood, Principal, Aanchal International School, Sector 41
Teaching should fulfil industrial needs
The earlier system of education churned out unemployable workforce or at the most clerks. However, the new narrative of teaching will fulfil industrial needs. The curriculum should be based on practical approach rather than rote learning.—Renu Verma, Principal, DC Montessori Senior Secondary School, Mani Majra
Choice of subjects for students
The change in the curriculum has to start from the beginning of school education. Choice of subjects should be available for students of Classes VII, VIII and IX to understand where the child's inclination is. Besides, there is a need to teach moral values to children.—Gian Jyot, Principal, Gian Jyoti Global School (Mohali)
Outcome-based education is a student-centric teaching and learning methodology in which the course delivery, and assessment are planned to achieve stated objectives and outcomes despite calendar defined constraints and attendance regulations. It focuses on measuring student's performance at all levels.—KK Bajaj, former Dean of College-cum-Director, Himachal Pradesh University