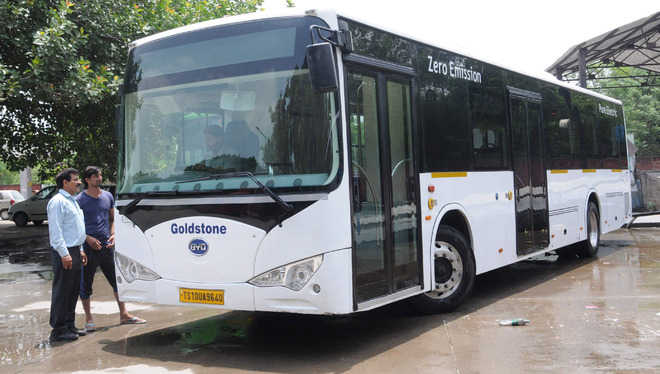 Ramkrishan Upadhyay
Tribune News Service
Chandigarh, July 6
After completing the 15-day trial of a TATA Motors electrical bus, the Chandigarh Transport Undertaking (CTU) will soon go in for a trial run of another bus.
Hyderabad-based Goldstone firm brought the bus to the city today. Goldstone Infratech Limited has tied up with BYD Company Limited based in China for the purpose.
Sources said the CTU was likely to start the trial run of the electrical bus from July 10. To check pollution caused by vehicles in the city, the Administration has decided to introduce electric buses under its Smart City plan.The company has already completed trials of a midi-electric bus on the Manali-Rohtang Pass route. Before issuing a request for proposal (RFP) for supplying the bus, the Transport Department has asked some of the companies to ply the bus on city roads on a trial basis. An official of the department said the idea was to have a first-hand experience. He said this way, RFP would be issued soon. The electric bus has many features.
While on a TATA bus (9 m), 26 passengers can sit and nine can stand, on a Goldstone bus, 41 persons can sit and 25 can stand. The bus is gear-less and has the air-suspension facility. The fully charged bus can cover up to 250 km. Officials said each bus had unique features based on their design. He said the electric bus was a zero-emission vehicle. The electric buses are already running successfully in foreign countries and trials are on in Delhi, Bengaluru and Pune. The operational cost of the bus is lower than the traditional bus.
Top News