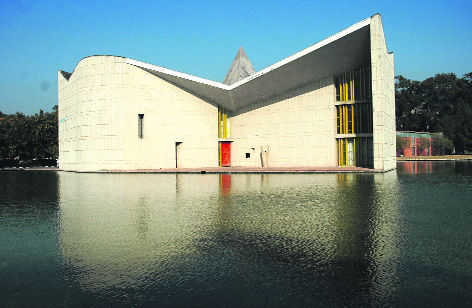 Amarjot Kaur
Tribune News Service
Chandigarh, September 21
Following the Punjab and Haryana High Court's order dated September 18, a meeting of the Senate will be convened on September 28.
The only agenda of the meeting is to consider agenda item C-7 of the Senate meeting that was held on August 22 regarding one-year extension — up to May 31, 2020 — to be given to the Dean Students' Welfare (DSW) (men), Emanual Nahar, DSW (women) Neena Caplash and Associate Dean, Student Welfare, Ranjan Kumar.
Panjab University Vice-Chancellor Prof Raj Kumar expressed his strong reservations over the extension of the officials. He had not recommended the names for the posts in question during the Syndicate meeting. The Senate, during the meeting on August 22, considered the agenda item and tentative minutes have been circulated. The Vice-Chancellor, vide order dated August 22, had appointed Prof Jagat Bhushan, Principal-cum Professor, Dr HS Judge Institute of Dental Sciences & Hospital as the DSW (men) and Professor Nandita Singh, Department of Education, and Dean, International Students, as the DSW (women).
Later, Prof Emanual Nahar challenged the office order dated August 22 by filing a complaint in the Panjab and Haryana High Court. The court, on September 2, passed an order to restore status qua ante as it existed a day prior to the meeting of the last Senate meeting, allowing the petitioner to continue as the DSW.
The university filed a letter patent appeal (LPA) against the court's order on which the court passed an order on September 18, which reads: "...In view of the peculiar facts and circumstances, these appeals are disposed of with a direction to Panjab University to convene a meeting of the Senate after issuing a seven-day notice to all Senators. The meeting be convened on September 28, 2019, at 11am in the office of the Senate of Panjab University to consider the agenda item C-7 of the meeting dated August 22 and the entire proceedings of the meeting shall be videographed as was done earlier. We may also add that we have not commented on the merits of the case and all the questions raised in this appeal shall remain open."