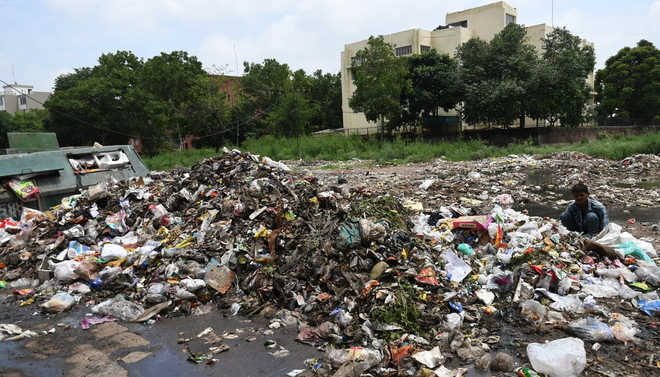 Sandeep Rana
Tribune News Service
Chandigarh, July 20
With garbage piling up at Sehaj Safai Kendras (SSKs) in several sectors for the past few days, the city residents can expect some relief by Monday.
Dr Amrit Warring, Medical Officer of Health (MOH), Municipal Corporation, claimed that the backlog will be cleared by Monday as staff had been directed to work in two shifts.
Overflowing bins at SSKs are not only eyesores but also pose trouble for those residing in their vicinity as they have to bear with the foul smell emanating from heaps of garbage. Besides, the open waste is becoming a breeding place for mosquitoes and flies, causing health hazards.
Devinder Singh Babla, Congress councillor and the Leader of Opposition in the MC House, said, "JP waste processing plant is not working as it is expected to perform. Garbage has not been lifted from SSKs for the last five days. Unlifted garbage is a big nuisance."
BJP councillor Shakti Parkash Devshali said, "Waste is not being lifted daily. We are going to raise this issue in the MC House meeting."
Harjinder Singh, chairman of Dadu Majra Residents' Welfare Association, alleged, "Waste is being thrown in the dumping ground and is not processed. When some officials visit the plant, the firm starts taking waste for processing."
NK Bhora, incharge of the plant, could not be contacted for comments.
Dr Warring said, "It is not that the firm is not processing waste. Actually, we used to send 250 tonnes of garbage for processing every day earlier, but now we are sending 500 tonnes, the entire waste generated in the city. Thus, it has led to queues of trucks carrying waste outside the plant. We have asked our team to work in two shifts and they are working till 2 am. The backlog will be cleared by Monday."
Some councillors said the company was not processing properly on the plea that the MC was not sending segregated waste. However, the MOH said it was not the case as the machines there were meant to process mixed waste. The MC had started waste segregation at several places, he added.