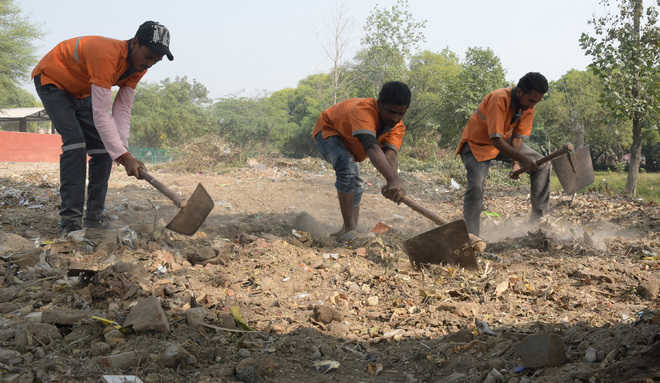 Sandeep Rana
Tribune News Service
Chandigarh, October 28
Depicting the sorry state of affairs, Lions Company, which is paid over Rs 4 crore per month for taking care of sanitation in southern sectors by the Municipal Corporation, was caught on the wrong foot today.
It was challaned and fined Rs 5,500 by the MC for littering the forest area. A DDR was also filed against the company at the police station, Sector 31. Its tractor-trailer was also impounded, but was later released following an apology by its workers.
The incident happened at 5:30 am when the company's tractor driver, Arjun Singh, was caught dumping garbage in the forest area right at the back of Sehaj Safari Kendra in Sector 47. The Forest Department staff called up the police and Arjun, along with the tractor-trailer, was taken to the police station.
"We have been getting complaints of dumping of garbage in our forest area for the past two or three days. Today, in a raid at Sector 47, the company employee was caught red-handed. We have lodged a complaint with the police and sought strict against the staff of the company," Santosh Kumar, Chief Conservator of Forest, told Chandigarh Tribune.
The department, in its complaint, has stated that earlier they found forest areas in Sectors 46, 48 and 49 littered with garbage. Despite being warned against littering the forest area, they have not mended their ways.
After the matter came to light today, the MC inspector fined the firm Rs 5,500 for littering in a public place. Area councillor Davesh Moudgil said: "It was shocking. This way, we are not going to be able to fulfil our Prime Minister's dream of a clean India. We are getting areas cleaned but instead of shifting the garbage to the processing plant, the firm is littering around. What for are we paying the firm Rs 52 crore annually?"
Congress councillor Devinder Singh Babla, who had earlier raised the issue at the house meeting, said: "This company is into looting. Why the MC is paying them so much and who all are involved in it?
A heavy penalty should be imposed on the company."
Earlier, MP Kirron Kher had raised questions over the working of the company. However, several other councillors, including Arun Sood and Rajesh Kalia, had maintained the firm was doing a good job.
Meanwhile, Mayor Asha Kumari Jaswal said: "I have got to know they have been fined. Whether it is a company or anyone else. Whoever is found littering will be taken to task."