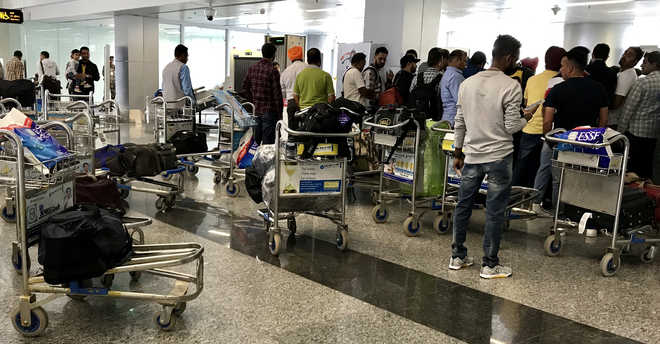 Pavneet Singh Chadha
Tribune News Service
Mohali, October 17
Passengers aboard IndiGo's flight (6E 56) from Dubai to Chandigarh were left aghast when they arrived at the Chandigarh international airport without their luggage, which was left behind by the airline.
A majority of the passengers were stranded and had to wait in vain for over an hour for their luggage at the baggage re-claim area before airline officials informed them that the luggage of some commuters had been left behind.
According to sources, the same flight, which was supposed to depart from the city to Delhi at 12.30 pm, was cancelled due to a technical fault.
"The airline adjusted some passengers, who had to urgently board the flight to Delhi, on other flight carriers," said an official at the airport.
An official from IndiGo, who did not wish to be named, said that baggage of 78 passengers had to be off-loaded in Dubai due to pay load restriction and weight issue.
"The flight, with 180 passengers on board, took off from Dubai at 5.30 am (local time) and landed in Chandigarh at 10.30 am (IST). As per the procedure, we have asked the passengers to fill the property irregularity report (PIR) form to record their details. Their baggage will be sent to them in a day or two," the official said.
Sources at the airport said a similar incident had occurred on Monday.
Passengers at the airport were distraught to find their luggage "missing". Working professionals and businessmen returning to the city to celebrate Diwali said their luggage had valuable items, medicines and gifts for family members.
Pankaj Sharma, a senior photojournalist with Gulf News in Dubai, said the airline should have informed the passengers earlier instead of making them wait for an hour at the baggage terminal.
He said, "The airline is claiming they would return the luggage in a day, but it could take more time. This is my daughter's first Diwali post-marriage and the luggage contained gift items, dry fruits and jewellery. I will have to purchase the items again if the luggage is delayed."
Jasmeet Saini, who had gone to Dubai for a holiday, said his luggage contained items that he had purchased for his family for Diwali. He said the authorities had informed that the luggage could either be collected from the airport on Wednesday morning or it would be sent to his residence in Kurukshetra after two to three days.
"By that time, Diwali would have passed," he said.
A woman, who was visiting Chandigarh so that her children could experience Diwali for the first time, was left stranded.
Daljit Singh, a resident of Phagwara, said he was waiting for one of his bags to arrive. "We were made to wait for two hours for the luggage. The airline then said there was a technical problem due to which the luggage could not be carried," he said.
Despite repeated attempts and an email, officials from Indigo Airlines were not available for comments.
Top News
Chennai airport operations suspended from 9.40 am to 11 pm
Group of militants on their way to Myanmar ambushed by anoth...
Court of Inquiry ordered to ascertain the cause of accident
Punjab MP was suspended on August 11
The report was mentioned in business list at number 5 in the...