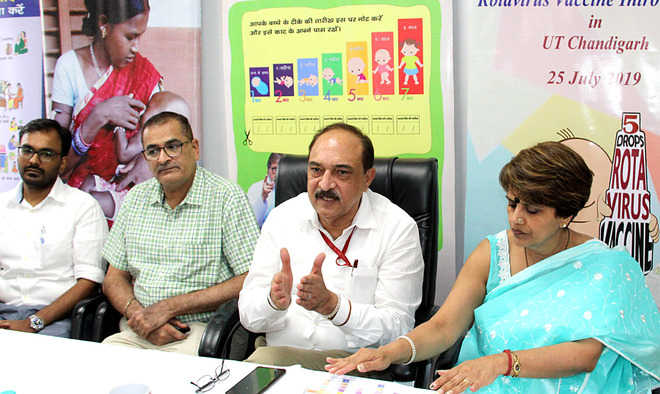 Tribune News Service
Chandigarh, July 25
The Health Department, UT Administration, will provide rotavirus vaccine free of cost at all its hospitals under routine immunisation schedule from July 31.
The vaccine protects nine out of 10 children from getting severe illness caused by rotavirus. The virus accounts for 40 per cent of hospitalisation due to diarrhoea amongst children in India. Rotavirus diarrhoea may vary from transient loose stools to severe diarrhoea with vomiting.
If not treated adequately, it may cause dehydration, electrolyte imbalance, shock and death. Rotavirus vaccine has been included in the National Immunisation Programme of 96 countries.
"The vaccine will be provided free of cost at all the health and wellness centres. The vaccine will be given along with routine vaccine on immunisation days of Wednesday and Saturday. The vaccine is in the form of oral drops and five drops of this vaccine are administered to the child in 6th, 10th and 14 weeks after birth under the Universal Immunisation Programme (UIP)," said Dr G Dewan, Director, Health & Family Welfare, UT, at the launch function of the RVV here today.
Dr Dewan said it was a safe vaccine and no adverse reaction had been found; however, some children might have a mild fever after the vaccination.
Top News
No militant group has claimed responsibility for the attack
AIADMK leads demand for passage of Women's Reservation Bill ...
Said while rapists and murderers were being released under r...
The bench takes note of the submissions by lawyer ML Sharma ...
Csaba Korosi also wondered why there is still no agreement o...