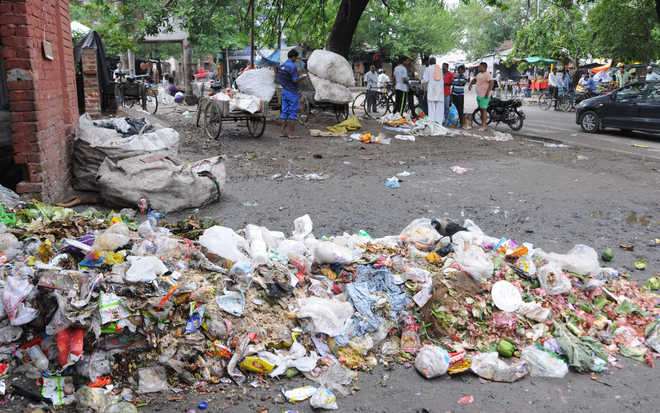 Kulwinder Sangha
Mohali, June 29
Even as the implementation of the garbage segregation project of the Mohali Municipal Corporation has failed to make much headway among residents so far, the civic body has gone ahead and cleared another scheme of having "smart bins" in the town.
The plan of acquiring "smart bins" equipped with sensors and galvanised bags was cleared at a general house meeting of the corporation held on June 27. The cost of the project is Rs 6.20 crore. Most of the expenses will be borne by the Central Government with the corporation pooling in about Rs 1.25 crore.
Surprisingly, the garbage segregation project, which was launched on a trial basis from Sector 71 around mid-April, has not caught on even among residents of that area so far. Local Government Minister Navjot Singh Sidhu had formally launched the project in the town on June 5.
The civic body has been able to sell not more than 150 dustbins at a discounted price so far. A provision for purchasing 10,000 dustbins had been made by the corporation.
Amrik Singh Somal, municipal councillor living in Sector 71, said the people were hardly aware of the garbage segregation project. Most residents do not follow the directions, if told once. He said some residents do keep inquiring about the two dustbins to be purchased under the scheme, but were so far following the old system of garbage disposal.
A resident of Phase XI, SS Barnala, said the residents were following the old system. Awareness will have to be created to make the segregation project roll out in Mohali. Though the corporation had put up boards for creating awareness in this regard, residents hardly read those boards. He said the civic body would have to send teams to houses for distributing pamphlets and making the occupants aware of the segregation project.
Corporation Commissioner Rajesh Dhiman said the segregation project would take more time to get implemented in the town. He said the civic body could only convince residents and not pressurise them to follow the new directions.
He said earlier 35 boards regarding the segregation of waste had been put up within the corporation limits for creating awareness among the public and now 50 more had been added. The chief sanitary inspector and the sanitary inspector had been asked to create awareness among residents.
Dhiman said the corporation had arranged dustbins at discounted rates but the expected demand for these was not forthcoming. He said the civic body was now requesting municipal councillors to get involved in the project. The proposal to have garbage bins with sensors was part of the same project.
Top News
The nasal vaccine—BBV154 -- had received DCGI approval in No...
Egypt's President Abdel Fattah al-Sisi is the chief guest at...
Announcement was made by Adviser to the UT Administrator Dha...
It reflects the 'myopic' mindset of those in power at the Ce...
In the last year, more than 70,000 people globally have been...