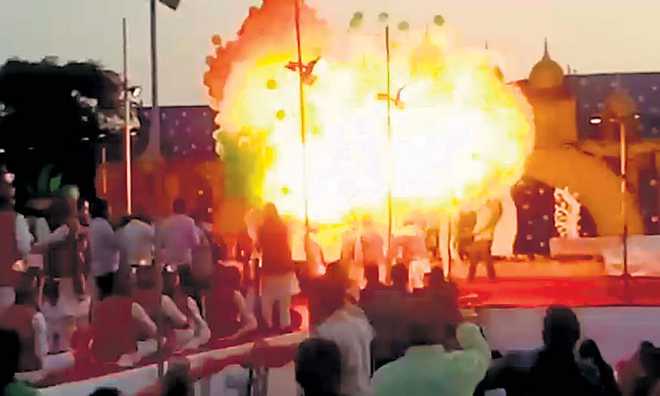 Chandigarh, October 8
Around 15 persons were injured in a gas balloon blast at a function at Sector 34 here this evening.
Sources said the annual function of Allen Career Institute was under way on the ground opposite the gurdwara at Sector 34 when the incident took place.
Among those injured were former students of the institute, who were invited for the celebrations. They were releasing balloons when the incident took place.
The injured were rushed to the GMCH, Sector 32, where their condition is said to be stable. Police officials said they were investigating "the reasons that led to the incident".
One of the injured said they had a narrow escape. "The injuries would have been severe had there been more balloons," he said. All persons suffered injuries on their hands while some also suffered injuries on their face and neck. A doctor said none of them has any serious injury. — TNS
Top News
Jammu and Kashmir Lieutenant Governor Manoj Sinha and politi...
Cops say case cracked within three days with the arrest of a...
Indonesia football association suspends league to investigat...
Samajwadi Party patron is under treatment in Gurugram hospit...
DGP dismisses Mansa CIA Incharge, FIR registered against err...