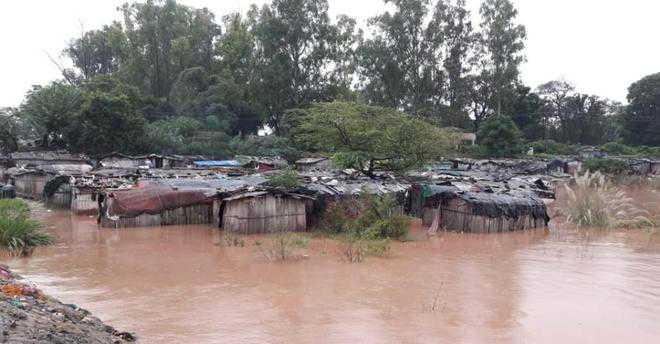 Satinder Pal Singh
Dera Bassi, September 24
Incessant rain since Friday night increased water level in Ghaggar and woes of the migrant population along the banks of the river, near Mubarikpur, as rainwater entered their jhuggis (huts).
Dozen of jhuggis of migrant labourers, constructed along the banks of the Ghaggar river were inundated. Jhuggi dwellers living in the low-lying areas along Ghaggar had to be moved on the roadside.
The water level in Ghaggar was recorded at 6 feet (around 10,000 cusec discharge) in Bhankharpur, Dera Bassi, at around 6 pm. Although water level of the river is still low, yet residents of Mubarikpur and nearby villages are feeling threatened after continuous rain during the past few days.
Amid reports of rising water level in Ghaggar following a heavy downpour in the catchment areas of Himachal Pradesh since the past three days and apprehensions of residents living nearby, a team of senior functionaries of the district led by Deputy Commissioner (DC) Gurpreet Kaur Sapra inspected rivulets and also reviewed flood control measures in villages of the Dera Bassi constituency.
While talking to Chandigarh Tribune, the DC said the district administration was prepared to tackle flood-like situation while calming that there was no risk at all as the water level had not reached an unprecedented level.
The DC along with other officials also visited the areas surrounding the Chhat Bir Zoo today. She maintained that residents need not worry as the water level was far below from the danger point. The DC also asked officials concerned, including BDPOs, Patwaris and others, to stay alert.
When contacted XEN, Drainage Department, Patiala, Davinder Singh, said, "There is no immediate fear of floods as the water level in Ghaggar is still low (around 6 feet). The level has not touched the 10 feet mark, surpassing the danger level."
An observation post of the Drainage Department recorded discharge of around 10,000 cusec of water in the Ghaggar river, near the Bhankarpur bridge, at around 6 pm.
No power for 13 hrs
Electricity and water supply in Zirakpur and the nearby areas was badly hit following rain in the past two days. Residents rued that there was no electricity for more than 13 hours at Garden Villa, a housing society in Zirakpur, and over four hours in the surrounding areas of Baltana. Residents complained that they had to remain without water despite heavy showers on Monday due to power failure. The power supply in the Garden Villa area was disrupted at 2 am in the morning and could be restored only around 4 pm on Monday. Sources in the Electricity Department said the problem occurred due to a technical glitch in the transmission line following rain. Villagers blamed the authorities of being negligent towards the problem, especially during the monsoon. Low voltage and frequent tripping was a common feature, villagers complained.
Top News
Severest of severe action taken: CM | Amritpal's lawyer alle...
BJP slams Cong for skipping RS Chairman's meeting
White House refuses to comment on claim