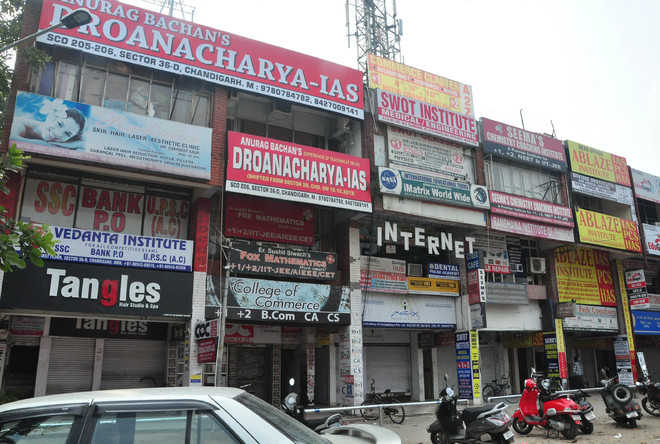 It's not at all in the interest of Class XI and XII students to opt for admission in dummy schools just to get free time to attend classes at coaching centres for preparations for the entrance exams to get admissions in reputed engineering and medical colleges across the country. Mushrooming of such coaching centres and dummy schools across all cities has misled students into believing that they can perform better in entrance exams if they go for coaching at such centres and avoiding attending regular schools. The CBSE or state boards with which dummy schools are affiliated must take stern action against such institutions, which allow dummy admissions. Their affiliation should be cancelled. The education boards must instruct all schools to make necessary arrangements for proper coaching classes for competitive exams for all students. Coaching centres are just a business to make money.
Give weightage to Class XII marks
Officials of the Education Department should visit all schools randomly every fortnight to check dummy admissions, ghost teachers and impose heavy fines on schools/Principals, who flout norms. Reasonable weightage should be given to marks secured in Class XII exams. As such improvement in the education system should be done on top priority to stem the rot. This will reduce corruption and increase accountability in the Education Department as well as schools.
KC Rana, Chandigarh
Schools must solve students' problems
Schools are meant to train students for multiple pursuits, which will help them in studies, sports, drama or other activities throughout life. Barring students from going to school and taking shortcut is not a good idea. Those taking dummy admission in Class XI and XII is not legal and should be dealt with firmly. Schools should solve problems faced by students. Students should be called for extra classes at schools. Teachers should teach with full dedication and must know what and where the problem is. Dummy schools are flourishing as the authorities concerned are in deep slumber. The High Court should take stern action against the authorities.
Opinder Kaur Sekhon, Chandigarh
School staff not competent
It is a hard fact that Class XI and XII students, whose primary aim is to seek admission either in engineering/medical streams often seek dummy admissions in tricity schools. The basic reason behind this is that the teaching staff in schools is not competent to impart education and conduct practice sessions, which are needed to compete in the entrance examinations. In some schools the whole syllabus is not be finished. Until some stringent measures are taken to improve the standard of education in schools dummy admissions will continue in schools. Harish Kapur, Chandigarh
Sanjay Chopra, Mohali
Biometric attendance need of the hour
Dummy admissions are really a big problem these days. Biometric attendance at schools is the permanent solution to this issue. Secondly, surprise visit by board officials in schools to check records of students can help to some extent.
Jasbir Kaur, Zirakpur
It's a shortcut chosen by influential
Dummy admissions in schools particularly in the tricity have become an unethical business. Influential people and money bags choose this shortcut to ensure that their children join private coaching centres and take dummy admission in schools. It has become a lucrative business especially in the private sector schools. Students of Class XI and XII pass board exams without attending schools. One reason why students take this shortcut is poor educational facilities in schools, their ambition to get good marks in board exams and to do better in competitive examination for getting admission in reputed colleges. Whatever the reason, it is unethical, illogical and unwarranted. There is a need for a regulatory authority to keep a check on coaching centres, which exploit students. Students must give an undertaking that they are not attending any school with proxy to such authority. Any school giving proxy admissions must be dealt with sternly. It's high time that the UT Administration must form a regulatory authority to curb the problem of proxy admissions in schools.
Capt Amar Jeet Kumar (retd), Mohali
Private schools are making easy money
The illegal practice of dummy admissions particularly in Class XI and XII has been continuing for past several years. Some private schools are making easy money by taking advantage of this practice. Ardent desire for admission to prestigious medical and engineering institutions compels parents to get their wards admitted in private coaching centres for the preparation of competition examinations. Such centres ignore fundamental principles of subjects and simply make students cram answers. The Education Department must take steps to curb this menace. Surveillance cameras at schools and regular checking of attendance can curb this menace.
Deepak Mehra, Chandigarh
Coaching centres not school substitute
Schools are temples of learning. Even best coaching centres cannot substitute schools. By attending classes in school a student learns what is covered in text books as per prescribed syllabus. Besides, discipline, respect for teachers, meaningful interactions with fellow students, taking part in extra-curricular activities are the giveaway of a school, which no coaching centre can ever provide. To discourage students and prevent mushrooming of coaching centres the percentage of attendance in classes must be increased by the authorities concerned. Before allotting roll numbers to students appearing for board examinations their attendance must be taken into account.
SC Luthra, Chandigarh
Close centres running during school hours
The dummy admission problem in the tricity has been increasing with each passing year. Students are getting enrolled with privately run institutes to clear competitive exams like AIEEE and NEET. They forget to learn basics of their subjects in schools, but rush to private institutes, which lure them by promising to impart advanced knowledge. Schools which give dummy admissions are major contributor to this lapse. The Chandigarh Administration can stop coaching institutes to conduct classes during the school hours. It can instruct school managements to make students attend classes and maintain proper attendance. Private institutes, which run classes during school hours, must be closed. Action must be taken against schools, which allow students to attend tuitions during school hours with dummy attendance. Schools must counsel students about ill effects of leaving basics before learning advanced knowledge. Students must be apprised about harms of bunking classes to join coaching institutes.
Wg Cdr Jasbir Minhas (retd), Mohali
Immigration dreams are the root cause
The corruption involved in dummy admissions and fake degrees, being handed-over to students, is a result of immigration dreams of the youth coupled with mushrooming of private universities not only in Punjab but across west and south India. This problem is like a chain and starts with owners of private universities, who desire quick returns on their investment. For this they involve senior faculty members, who are owners/investors of nearby coaching centres. They act as agents of universities and institutions. The higher the fee you pay to these coaching centres the higher percentage you get in annual results. In fact, coaching institutions are commercial establishments, which are run by their owners like a shopping mall. It's like pay first and degree will be home delivered. The Education Department of all states must step up vigilance on such institutions. The government should issue periodic advertisements for creating awareness on fake coaching centres. A 24-hour helpline for students and their parents should be launched for complaints against fraudulent institutions.
Rajiv Boolchand Jain, Zirakpur
Attending school must be mandatory
The trend of dummy admissions is really gruesome. The root cause of this problem is mushrooming coaching centres. I being a teacher myself feel that it should be mandatory for a student to attend the school. Actually, some money-minded private school authorities are hand in glove with coaching centres. The education officer concerned should deal strictly with such schools. Heavy penalty should be imposed on such schools, which are caught flouting the rules. Sometime back there was a ban on coaching centres to teach during school hours. The rule should be reinstated and followed in a true letter and spirit. Parents and students should themselves desist from following such unethical practices. Even teachers at coaching centres should encourage students to attend schools. Moreover, students should understand that by not attending regular school classes, they are missing two/three equally important subjects, which are not covered by coaching centres. So, only joint efforts of students, parents, teachers of coaching centres, school managements and the government can find a solution to this problem.
Bir Devinder Singh Bedi, Mohali
Let centres open after school timings
The Chandigarh Administration is totally responsible for spoiling the education system. It never checks attendance registers of students of private schools. These schools charge heavy amount as fee from students for dummy attendance. Strict action must be taken against institutions, which show fake attendance. Some students are used to wandering during study hours. Many students fall into bad society when they leave schools during study hours. The administration should frame strict rules for private coaching centers, which bar them from functioning during school timings. Most students cannot study properly due to same timings in schools and coaching centres.
Sumesh Kumar Badhwar, Mohali
Improve teaching standard in schools
Why students do not attend classes at schools? Why do they prefer going to coaching centres to pass Class XI/XII examination? Students choose classes at coaching centres as their timing is short as compared to schools where they have to spend long hours. I would, therefore, suggest that the school authorities must adopt the same way of coaching students as being done by existing coaching centres. I will not press for closing existing coaching centres.
Tarlok Singh, Mani Majra
Parents, students are being misguided
Despite being prohibited by the CBSE and the PSEB, several schools in the city allow dummy admissions to students for Classes XI and XII. A lot of schools are doing this, which is wrong. The CBSE does not approve of such admissions, but parents and students are being misguided. Regular guidance by teachers is a must to do well in boards and thereafter. This is totally unacceptable and is giving children wrong perspective of schools. Dummy admissions should be stopped with immediate effect. Proper investigation must be carried out and schools allowing dummy admissions must be fined. Schools must gear up to provide its students with coaching for competitive exams. Instead of going to other private coaching centers, it is better to be taught by school teachers, who are already familiar with students. Examination on the pattern of competitive exams must be included in the curricula.
Dr Shruti K Chawla, Chandigarh
Conduct surprise checks at schools
Coaching centres have mushroomed across the tricity. It's time that these are regulated to maintain educational standards of schools. Registration for all coaching centre both new and old must be mandatory. Coaching centres should work after the school hours. This will ensure that students attend their respective schools. Minimum attendance of students should be bench marked. Students having minimum required attendance should be allowed to sit for final exams. Biometric attendance can be introduced to ensure presence of students in classes. Surprise checks can be conducted by regulators to confirm the presence of students in classes. Schools should also be penalised heavily for dummy admissions. If needed, the affiliation/recognition of violating schools should be cancelled. Parental undertaking against dummy admissions can be another way to curb this menace.
Dr Rajeev Kumar, Chandigarh
Edu Dept must revive old notification
Education has become a profitable business both for schools/ and coaching centres. Mostly private schools follow dummy admission practice in connivance with coaching centres and on parents' request. In the past, when this unfair practice was highlighted by the media, the Education Dept took some measures, including banning coaching centres from opening before school hours. The Education Department should revive the old orders/notification, check schools and coaching centres at random, and take strict action against institutions, which give dummy admissions and fail to pay taxes.
AS Ahuja, Chandigarh
Scrutinise attendance record of students
It is a fact that mushrooming of coaching centres is the main reason for dummy admissions in tricity schools and not attending classes by students. The administration should take stringent measures to curb this evil practice. The authorities should conduct surprise visits to schools and scrutinise relevant leave records to ascertain whether absentee students are marked as absent/on leave or not. The minimum attendance percentage should also be raised. Details of students enrolled by coaching centres must be checked. It should be mandatory on the part of coaching centres to obtain/provide details of students regarding schools in which they have taken admissions and what are their class timings. The records of coaching centres will indicate if timings of schools clash with coaching centres or not. Coaching centres must be answerable to the administration and submit details of enrolled students. Most of coaching centres are fleecing students financially as well as emotionally. Moreover, the faculty/staff of schools should be highly educated so that students are motivated not to bunk classes.
Rajender Kumar Garg, Zirakpur
Govt has to act tough to stop practice
In the trend of high scoring and highly competitive entrance exams aspiring students from Class Xl and Xll get allured with lofty publicity of coaching centres. They join these centres after paying hefty fee package for preparations of entrance exams. These commercial institutions run classes in batches for the whole day. Therefore, students absent themselves from schools to attend coaching classes. Some how they manage to get their minimum required attendance in schools. In many cases the unethical school authorities keep students on the proxy roll by charging fee. This not only deprives students from learning basic fundamentals of the academic syllabus, but also encourages corruption in institutions of learning. The government has to act tough to curb this practice by ensuring that no coaching centres run classes during school hours (from 9 am to 4 pm). Besides, there has to be periodical flying squad checks of schools to match the physical presence of Class XI and XII students with their numbers mentioned in attendance registers. Violators must be proceeded against with deterrent action.
SS Arora, Mohali
Nothing done to curb dummy admissions
The trend of Class XI and XII students opting for dummy admissions in schools to attend coaching classes for engineering and medical colleges is unhealthy and needs to be checked. We are not debating first time on this issue and not the last time. We had serious discussion on the issue in the past and given various suggestions, but nothing has been done on the ground to curb this practice. One of the important aims of education is to encourage thousands, develop creative ability and talent and prepare students for competitive examinations. Before we look at the future we have go back. Let us trace the reasons behind mushrooming of coaching centres. Schools have failed to provide the required education for competitive entrance examinations. A multi-pronged approach is needed to curb this problem.
Vidya Sagar Garg, Chandigarh
Cracking entrance exam only target
Joining coaching centres is a new trend. Every other student is trying to get into these centres. Schools tend to be less important for them. Class XI and XII results are of no significance for some students. Cracking entrance exams is their only target. To curb this ongoing trend, schools should deny giving dummy admissions to students. The government should also keep a check on the number of coaching centres. Such centres are an emerging threat to the education system.
Sukhman Preet Kaur, Chandigarh
Keep a watch on students' attendance
Nowadays, dummy admissions are common in the tricity. To stop this practice all coaching centres should start their classes after school hours. Also, students, who do not attend classes regularly, must be sternly asked to do so. Self study should be encouraged. Teachers should keep a watch on students' attendance. Students should give reason for not attending classes. These steps can prevent dummy admissions in schools of the tricity.
S Gulati, Chandigarh