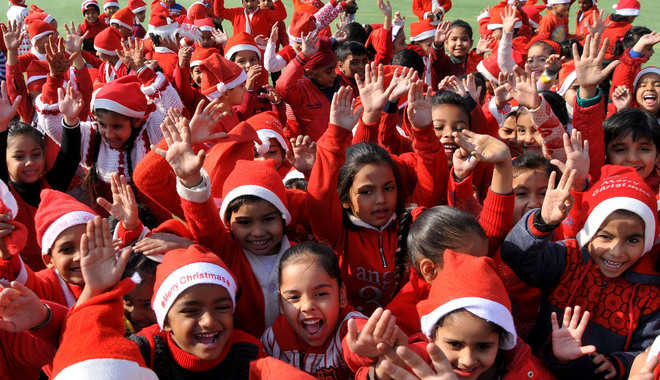 Chandigarh: 'Karo Sambhav' school programme was organised at Gurukul Global School, Chandigarh. Students showcased various activities related to saving the environment, e-waste collection and sustainable development. Delegates from other schools of the tricity also joined and shared their experience about the journey of the programme.
Ashmah International
Mohali: Ashmah International School celebrated Christmas with fervour and gusto at Sector 70, Mohali. Students decorated Christmas tree and came dressed in bright and colourful dresses. Parents participated enthusiastically in the fun games organised by the school such as bursting of balloon, four-leg race and cricket game. Parents actively participated in the games and won prizes.
St Soldier
Mohali: St Soldier International Convent School Phase-7 celebrated Christmas carnival with festive spirit on the school premises. Christmas spirit and merriment reverberated throughout the programme.
Delhi Public School
Chandigarh: Delhi Public School, Chandigarh, celebrated Christmas at its library which was beautifully decorated with book sculptures of a tree, snowman and reindeer. Students from different classes enjoyed decorating Santa's face, Christmas bell, snowman, stars and Santa's cap. Each student selected a book of his/her choice to read during Christmas holidays. Principal Reema Dewan wished the students a "Merry Bookmas" and happy reading.
Ashiana Public
Chandigarh: The festival of Christmas was celebrated with gaiety at Ashiana Public School, Sector 9-D, Chandigarh, with fun and fervour. The story-telling session reflected upon the teachings of Jesus Christ and his life. Students of the junior wing sang Christmas carols and received gifts from Santa Claus. The school also arranged a puppet show for students.
SMD Little Champ
Panchkula: Christmas was celebrated at SMD Little Champ Smart School, Panchkula. The school campus was decorated with Christmas tree, bells, stars. Students came dressed as Santa Claus to keep up the spirit of the festival. One of the faculty members came dressed as a Santa and gave gifts to students.
Manav Rachna
Mohali: A painting competition at Manav Rachna International School was organised by Axis Bank for the students from Class II to VII, wherein they participated enthusiastically. TNS