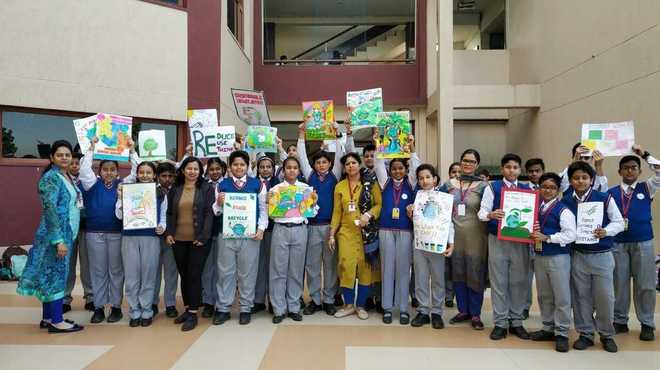 Students of Eco-Club, Hobby Club and art & craft of Gurukul Global School, Mani Majra, took part in a rally on sustainable development. They made beautiful and thought-provoking posters on the topic. They wrote catchy slogans such as 'To make the Earth fantastic, say no to plastic', 'Together we can save the planet Earth'.
Ashmah International
Ashmah International School, Sector 70, Mohali, organised an awareness rally on 'Say no to tabacco and drugs' at Phase VII market. Holding placards reading anti-tobacco slogans, students highlighted the ill-effects of consuming tobacco. Painting and slogans-writing competitions were also held.
The Knowledge Bus
The Knowledge Bus Global School, Mohali, made a wall of kindness outside the school premises to reach out to the needy. The idea was not only to help the poor and homeless by providing them clothes, footwear, utensils and toys, but also to inculcate values of compassion, kindness and consideration among the students.
Manav Rachna
Students of Grades I-III of Manav Rachna International School, Mohali, visited the Old Age Home, Sector 15, Chandigarh. The inmates gave students a warm welcome and enjoyed various activities. The students spent quality time with everyone. They shared their likes and dislikes and also made them laugh by telling stories. Students gave the elderly a few moments of joy and came back with a life-time experience.
Hopper International
Students of Hopper International Smart School visited Gur Aasra Trust, children's home at Palsora, Sector 55, Chandigarh, and spent a day with the inmates there. Principal Reetika Singh thanked parents, the school management and staff for contributing so generously towards humanity.
APJ School
APJ Smart School organised a poster-making competition for students of Grades VI to VIII. Students made posters on women empowerment and social media with enthusiasm. Principal Jasvir Chander, coordinators Seema Sharma and Inderjeet Saini lauded the efforts of the students and teachers.
Dikshant School
Students of the junior wing of Dikshant International School organised their 17th annual day function in Zirakpur. Anant Kumar Mishra, former Health Minister of Uttar Pradesh, was the chief guest on the occasion. The programme embarked with a Shiv Stuti, followed by the lighting of the lamp and a floral tribute to the founder late ON Dikshit. Students presented various dance forms and skits on the theme, 'We care'. Later, a prize distribution ceremony was held.
Top News
Sisodia's residence was raided by CBI in connection with all...
Says CBI raid 'reward' for good performance
Indian and Chinese troops are engaged in a prolonged standof...
Also urges international community to play a 'facilitative r...
Was allegedly mowed down by a dumper truck in Nuh during a r...