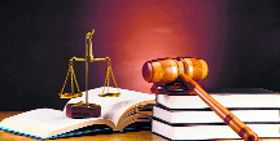 Tribune News Service
Chandigarh, January 24
The Punjab and Haryana High Court today put the Union of India, States of Punjab and Haryana and the Union Territory of Chandigarh on notice on a petition seeking initiation of immediate and effective steps to stop manufacture, storage, import, sale or transport of polythene and plastic carry bags. Directions were also sought against the utilisation of single-use plastic, thermocol cutlery and containers.
Seeking the launch of an aggressive campaign to educate residents about harmful effects of using the stuff, a non-government organisation (NGO) Yuvsatta, through Pramod Sharma, added awareness programmes were required to be held through print and electronic media.
In its meticulously drafted petition filed in public interest, the organisation referred to a report by the Ministry of Environment, Forest and Climate Change, stating that single-use plastic items, including plastic bags, plastic packaging thermocol and styrofoam cutlery, besides containers were difficult to recycle and could take up to 500-1,000 years to degrade.
It added that plastics production increased from 15 million tonnes in the 1960s to 311 million tonnes in 2014. It was expected to triple by 2050. Primary reason for the same was plastic packaging and most of it was single-use.
The petitioner also referred to another report by the United Nations Environment Programme, stating that there would be around 12 billion tonnes of plastic litter in landfills and environment by 2050.
It added Styrofoam contained carcinogenic chemicals such asstyrene and benzene. The toxins in Styrofoam containers could leach into food and drinks. Disposing of plastic waste by burning it in open-air pits released harmful gases like furan and dioxin.
Third report referred to said the area where plastic bags were thrown acts as a breeding ground for various disease carriers. Hundreds of cows died annually after chocking due to plastic bags.
The Yuvsatta added that the Article 21 of the Constitution of India guaranteed the right to live with dignity, which included the right to good health and right to clean and healthy environment. Also, the Article 47 mandated the state to lay emphasis on the health of citizens, while the Article 48 directed the state to protect and improve the environment.
It added that the notification, dated July 30, 2008, still in operation in Chandigarh, was flawed as the Chandigarh Pollution Control Committee having maximum expertise had been excluded from playing an important role.
It further added that the use of polythene/plastic carry bags was banned only for supply of goods by persons including shopkeeper, vendor, wholeseller or retailer, trader, hawker, or rehriwala. A blanket ban on the use of polythene/plastic carry bags was not there.
"No accountability is fixed upon the officers responsible to curb the prevalent use of polythene/plastic carry bags, single-use plastic etc," it added.
Top News
The minister's comments come against the backdrop of the US ...
Describing the allegations levelled by Justin Trudeau agains...
Raids 51 places in Punjab, Haryana, Rajasthan, UP, Delhi
7 fire tenders from nearby areas rushed to the spot
Ashwani Kumar's work on potential reduction in TB treatment ...