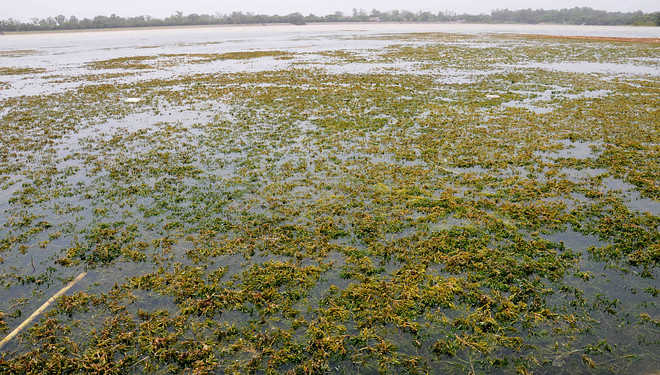 Tribune News Service
Chandigarh, February 20
The Punjab and Haryana High Court today directed the state of Punjab to file a status report on illegal construction in Kansal village. A status report has also been called on the flow of dirty water into the Sukhna from Kaimbwala.
The bench also directed the UT Administration to file a status report on progress of work being carried out to set up a sewage treatment plant (STP) at Kishangarh.
Haryana and the UT were further asked to file reports on water flowing into the lake from Haryana side.
The bench also directed the Chandigarh Administration to file response to the suggestions given by the amicus curiae, Tanu Bedi, on the problem of stray dogs.
The Division Bench comprising Justice Ajay Kumar Mittal and Justice Anupinder Singh Grewal also directed the Administration to respond to other suggestions submitted by Bedi.
As the case came up for hearing, the Chandigarh Administration and the state of Haryana filed status reports on the proposed STP. The bench was informed that illegal construction was being carried out in Kansal village of Punjab.
Senior standing counsel for the UT Administration Suvir Sehgal informed the bench that a proposal had been finalised and approved by the Administration for installation of an STP on public-private partnership mode. Sehgal asserted that a proposal was also prepared for additional water resource for filling the lake to maintain its water level.
The rain-fed lake at the foothills of the Himalayas was created way back in 1958 by damming the Sukhna Choe, a seasonal stream coming down from the Shivalik Hills.
The High Court, in its order dated March 14, 2011, had also issued directions for restoring the lake to its former glory.
In May 2012, the division bench of the High Court had directed the states of Punjab and Haryana, along with the Chandigarh Administration, to not just stop construction activity in the lake's catchment area but also to demolish without notice any construction being carried out against the High Court mandate.
Top News
The network, which operated in the darknet and used cryptocu...
Railway Board has recommended for Central Bureau of Investig...
Amid pro-Khalistan sloganeering, the 39th anniversary of Ope...
Focus on ways to expand bilateral defence and strategic ties
Officials said police are collecting evidence in connection ...