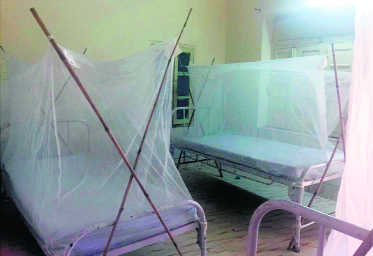 Tribune News Service
Patiala, May 5
Following the first case of dengue the District Health Department has already earmarked separate wards to handle patients suffering from the disease. In fact, the Health Department has set up dengue wards at all the three subdivision hospitals in Samana, Rajpura and Nabha.
District Epidemiologist Dr Sumeet said the Samana divisional hospital had designated a ward with 12 beds while Nabha and Rajpura hospital had wards of six beds each, where dengue patients could be admitted for treatment.
According to health experts dengue cases were usually reported in July. However, sporadic cases of the disease could be detected in May also.
"The Health Department is fully equipped to tackle any urgency of dengue cases. We have already set up dengue wards at divisional hospitals. Besides the Rajindra Hospital and Mata Kaushalya Hospital authorities have been asked to set up separate dengue wards," Dr Sumeet added.
The Health Department would increase the bed strength if required, he said. All major private hospitals in the district had also been asked to prepare isolated wards for dengue patients, he added.
Understanding the vulnerability of the dreaded disease, Civil Surgeon, Patiala, Dr Manjit, has already issued instructions to government health institutions, including tertiary health centre at Government Rajindra Hospital to set up dengue wards.
Notably, last year, the district had witnessed the highest number of dengue cases in Punjab and the first case was reported in the last week of May. This year, the first case of dengue has already surfaced in the first week of May itself.
Top News
The former military ruler had left Pakistan in March 2016 fo...
After his failed misadventure in Kargil, Musharraf deposed t...
Military shoots down the surveillance balloon in Atlantic Oc...
The incident took place on Friday when Kambli reached his fl...
Dearness allowance for employees and pensioners are worked o...