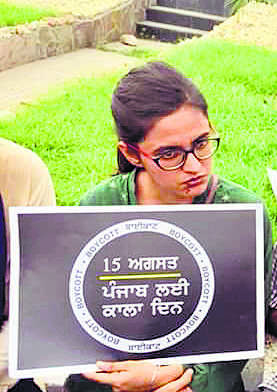 Amarjot Kaur
Tribune News Service
Chandigarh, August 17
In an unpleasant debacle of sorts, Panjab University's left-leaning SFS (Students for Society), which gave to the PU its first woman president Kanupriya, was on Saturday asked to "clarify on issues pertaining to unity and integrity of the country" by RSS-backed Akhil Bharatiya Vidyarthi Parishad (ABVP).
The right-wing ABVP raised objections to SFS's former Panjab University Campus Students Council (PUCSC) president Kanupriya boycotting the Independence Day celebrations at a protest, accusing her of supporting Punjab referendum. Kanupriya, however, while sharing a video of her speech, has rubbished their claims.
Clearing her stance, Kanupriya shared that she participated in a protest held in 14 districts of Punjab against the 72 years of injustice and subjugation by Indian state on various religious linguistic and cultural minorities of India in the name of 'Nationalism'.
"No where have I rooted for any referendum. The protest was organised by different Sikh oganisations. The SFS has common understanding with the issues raised in the protest as well as ideological differences with the other organisations involved in it," shared Kanupriya.
"We protested against the CBI's closure report on Barghari case, non-granting of self-determination, loot of river waters, non-arrest of ex DGP Saini in Behbal Kalan firing case and draconian laws—UAPA and 124-A," she added.
Kanupriya maintained that the Modi government was pursuing RSS's fascist agenda of 'Hindu Rashtra' in the name of nationalism and the ABVP was backing their religious politics.
"The SFS does not support any religion-based state. The SFS opposes the pseudo-nationalism of the RSS, the agenda behind which is to build the single-market for big corporates. The RSS-backed ABVP is also advocating for a religion-based 'Hindu Rashtra'," she stated.
Supporters of the ABVP supporters, on the other hand, agitated with Kanpuriya's address at the protest, where she called Independence Day a "Black Day" and raised black-coloured flags.
"The sacrifice of hundreds of heroes of independence is dishonoured by these so-called liberals," they rued.
The ABVP Panjab University (PU) president, Kuldeep Panghal, said, "We want clarification from the SFS on issues pertaining to unity and integrity of the country."
Supporters of the SFS, while replying to ABVP, said, "The Independence Day was a day of desolation for the people of Punjab and Bengal, in which millions were displaced and millions lost their lives in communal riots. Even today, colonial exploitation of India's natural resources and the people are sustained through the foreign investment. The Modi government is also robbing the country through foreign and domestic corporate houses behind the shield of nationalism. The SFS believes that freedom for the common people of India is relevant if and only if they are free from economic exploitation and lead a life of self-respect with social equality."