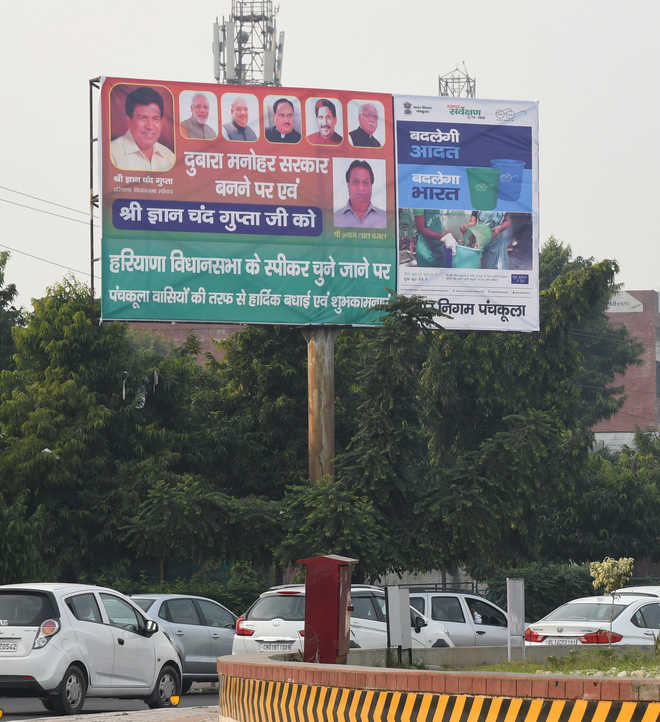 Tribune News Service
Panchkula, November 17
A large number of illegal hoardings dot the roads of the town and the local Municipal Corporation (MC)has failed to take action against it.
Chandigarh Tribune on Sunday spotted such hoardings at Agarsen Chowk, Guru Ravidas Chowk, Charkha Chowk and other places.
Illegal hoarding came up along the main roads of the city following the Assembly elections. Most hoardings carry photographs of BJP workers wishing the local MLA and senior BJP leader Gian Chand Gupta on being elected the Haryana Assembly Speaker.
Local party workers are wishing their leader for his new political innings by violating the rules.
A few hoardings also contain messages from political leaders expressing their best wishes on Gurpurb. Besides, hoardings of religious functions could also be spotted in the city.
City residents say the authorities should remove such illegal hoardings at the earliest.
The matter of illegal hoardings had also reached the Punjab and Haryana High Court.
The court had ordered that the authorities concerned should remove these from GT road, highways and key roads inside the town.
Municipal Commissioner Rajesh Jogpal said, "We haven't received any complaint in this regard. We don't have a dedicated team to check the violation. However, our encroachment team spots violations in the town once a week and take further action against the violators."