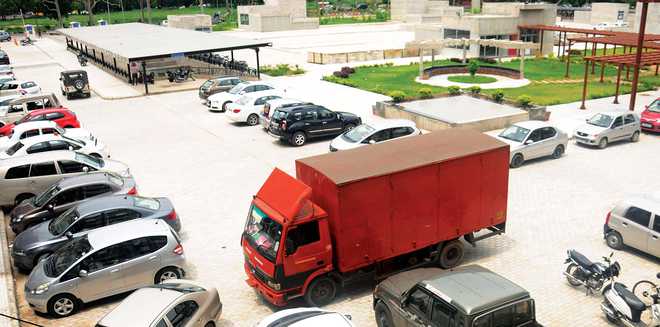 Ramkrishan Upadhyay
Tribune News Service
Chandigarh, November 23
Facing a major challenge of dealing with the increasing number of vehicles, traffic chaos and the parking problem, the Administration has finalised the draft parking policy in which various measures, including levying congestion charges, road tax of up to half the car price, manifold increase in the parking charges and penalty, have been proposed to discourage people from using vehicles.
For the first time, it has been proposed to link the parking charges with the collector rates of the area. Residents have been asked to send their objections over the policy within 15 days.
The minimum parking fee could be Rs 10 for the first half hour, Rs 25 for one hour and Rs 81 for two hours.
Congestion charges will be introduced in Sector 17, 22, 35 and 43, high-density commercial markets along V1/V2/V3/V4 roads, and the Industrial Area, Phase I and II.
The user fee will be high during the morning (9 am to noon) and evening (5 pm to 8 pm) peak hours. The congestion charges will be in addition to the parking charges being paid by residents in these markets. The congestion charges will be decided later. Other measures include mandatory plying of staff buses by industrial/IT companies with more than 50 employees, a penalty of Rs 1,000 per car per day will be levied for all cars parked outside the premises. Working Place Parking Levy (WPPL) will be introduced in public institutions initially and the same may be extended to private institutions/organisations in the city later.
To encourage low carbon travel modes, employers may provide incentives/passes to public transport users. Revenue generated from the WPPL may be used in improving the public transport infrastructure to make it more attractive.
Measures for residential areas
The boundary wall of marla houses shall be removed to accommodate more vehicles. Community parking in each sub-sector shall be created by using neighborhood commercial and institutional parking lots overnight, on a rental basis, to be managed and run by registered resident welfare associations (RWAs). Green areas shall not be converted or used for parking as it has an adverse impact on environment and public health, especially children.
Outstation vehicles to be charged more for parking
Outstation registered vehicles except for Punjab and Haryana shall be charged 50 per cent higher parking fee than other vehicles. A 50 per cent rebate in property tax will be made for residential marla houses having private parking lots within their sites.
Parking fee to be linked with collector rates
The MC shall determine and renew the structure and amount of parking tariff for all vehicle classes considering the following aspects: The base price of parking for each type of vehicle shall be determined based on the space occupied by each vehicle, the cost incurred in maintaining the parking space and circle rates (prevailing collector guideline rate for residential plot) of land in that particular area as per collector rules. The actual parking fee per hour shall be calculated for each area keeping in mind the actual parking tariff, base tariff, public transport factor and congestion factor.
The parking fee will be charged in half hour slots. The tariff per hour for any vehicle shall be lower for the initial hours and the rate shall be increased for subsequent hours. The minimum parking fee could be Rs 10 for the first half hour, Rs 25 for one hour, Rs 81 for two hours and so on.
The competent authority shall propose concessions in the parking fee or exemption for non-motorised vehicles, police vehicles, MC vehicles, essential service vehicles such as ambulance, fire brigade and motorised vehicles driven by physically challenged persons.
---
Road tax: Be ready to pay through the nose
The road tax shall be levied up to half the price of the second car purchased by any household. If the price of a car is Rs 10 lakh and above, road tax up to half the price of the car shall be levied. Vehicle owners will have to produce a certificate of availability of parking space at the time of registration for every car purchased after January 1, 2018.
Certificate of entitlement must from Jan 1
The certificate of entitlement (COE) will be mandatory after January 1, 2018, for the purchase of a car. It is a licence received in a successful winning bid in an open bid uniform price auction which grants the legal right of the holder to register, own and use a vehicle within the city for a period of 10 years. When the demand is high, the cost of a COE would even exceed the value of the car itself.
Shuttle service for functions
Functions, melas or gatherings within the sectoral grid of Chandigarh and industrial areas attract a huge number of cars. Hence, organisers/industrial owners shall arrange a shuttle service from prominent locations and the same may be widely published in local newspapers well in time. All institutions to clearly demarcate pick-up/drop off zones and must implement signage showing the time limit for picking up and dropping schoolchildren. Failure to do so shall attract heavy penalty for school managements. Technology interventions such as mobile application development shall be explored to enable residents to sublet their unused parking spaces within their plots. Within three months from the notified parking policy in the city, it will be mandatory for all vehicle owners to submit an affidavit to adhere to parking laws/regulations.
Top News
Deal expected to be complete by March 2024 | Tata group owns...
In his first major foreign policy speech since taking charge...
Actor Anupam Kher condemns Nadav Lapid's controversial remar...
Gilon also pulls up Indian social media users doubting the h...