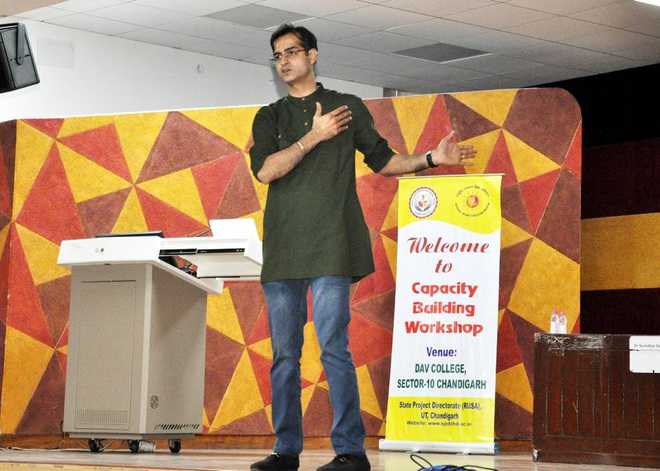 Tribune News Service
Chandigarh, September 23
Dr Sumit Narula, Director, Amity School of Communication, Amity University, Gwalior, was in the city for a workshop on plagiarism and detection of predatory journals at DAV College, Sector 10. The workshop assumed significance in view of the UGC-CARE list from which a number of journals, including some from Panjab University, were removed not meeting required standards. In an interview with The Tribune, he answered a host of questions on plagiarism
Define plagiarism in an academic journal?
When a person copies another author's work without giving any citation, it will be considered as plagiarism. Every institution has set a standard for the percentage of similarity, but it should be not more than 10 per cent.
How rampant is plagiarism in India?
Dr Narula: It is a rampant practice in India. The country, being weak in social sciences research, is vulnerable to fake journals.
How do you see UGC initiatives in curbing predatory journals?
It is a good initiative by the Centre. It should have been undertaken a long ago.
What should be a checklist for a researcher before submitting his work?
One must verify the International Standard Serial Number (ISSN) of the journal from the ISSN website before submitting his paper. He or she must check the Digital Object Identifier (DOI) for the digital identification of the journal.
The journalist must adhere to guidelines as prescribed by the Committee on Publication Ethics (COPE). Check the website and official email ids of the editorial board members. Sometimes, editorial board members do not know that they are associated with a particular journal. If it is an open access journal, try to find out the Directory of Open Access Journals Stamp.
Is it right to use plagiarism software while excluding review of literature and bibliography?
No. it is not a right practice. One must use proper filters while using the software.
Top News
Ballistic missile and satellite tracking ship 'Yuan Wang 5' ...
Apprehensions in New Delhi about the possibility of the vess...
Two legislators from the Congress, one from Jitin Ram Manjhi...
Were returning from Amarnath yatra duty
In the wake of latest development, Centre sought urgent hear...