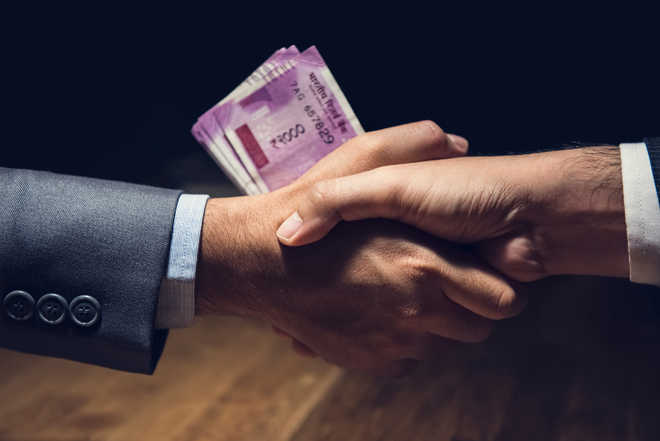 Rajesh Krishan
"Corruption has no place in new India." This strong statement made by Prime Minister Modi while addressing the Indian community at the UNESCO headquarters in Paris, lately has come as a whiff of fresh air, especially in the light of today's times when corruption has infiltrated every aspect of our lives like termites.
A recent survey of corruption perception by Transparency International, a Berlin-based anti-corruption organisation, shows that India with a score of 41 (out of 100 with 0 being the most corrupt) is not even close to the top least corrupt countries in the world, such as Denmark, New Zealand, Singapore, Norway and Canada, which have scores of 88, 87, 85, 84 and 81, respectively (source: https://www.transparency.org/cpi2018).
We can only choose to ignore these numbers at our own risk. For they remind us that even in this day and age, when we are sending robots to the Moon, we, particularly those most vulnerable within our society, such as the poor and illiterate, still have to deal with corruption to afford even the most basic of public services, such as a ration card, gas cylinder, driving licence or an electricity connection. We still have to grease the palms of the middlemen to get a loan to build a home or to avail of a welfare scheme. We still can't file a criminal report without the sifarish of some high-profile figure; then there are instances where bribe is sought just to get a document moved from one table to the other or to have darshan of a deity. The healthcare, the education system, the business sector – you just name it, the culture of corruption has spread its tentacles very deep across all levels in different spheres of life.
With such a situation, the compelling question becomes: who is to be blamed for such a situation – the government for not taking stringent measures to tame the monster of corruption or society for allowing it to grow and feeding it.
I think each one of us knows the answer. The stubborn presence of corruption in our society is a clear indication that our life's aspirations and dreams have become tinged with the false belief that success and progress mean hoarding wealth and possessions and cultivating a lavish and grandiose lifestyle, no matter the cost. More to the point, it suggests that in the run-of-the-mill lives that a vast majority of us lead today, we've failed to respect the core values that define us as a great and unique nation: selflessness, sincerity, humility, hardwork, high moral standards and a desire for a simple, frugal and honest living.
There is a quote by APJ Abdul Kalam, former President of India, which fits here, "Where do the evils like corruption arise from? It comes from the never-ending greed. The fight for corruption-free ethical society will have to be fought against this greed and replace it with what can I give spirit."
This can be achieved by bringing about a change in our respect for human values, morality and virtues through our own reflection or our exposure to the religious teachings of our respective faiths, which, ironically, are in abundance in our country.
Ultimately, it's about waking up to the understanding that more wealth and possessions are not the key to finding true and lasting enrichment and that a successful life is not about filling our own coffers, protecting our own families and our future, it's about denying our self-indulgent attitudes and deeds, being content with a little, helping others without any expectations and pursuing a life of ethics, honesty, compassion and service.
The great poet-saint Kabir once famously wrote, "Sai itna dijiye, ja mein kutumbh samaye, mein bhi bhookha naa rahun, sadhu naa bhookha jaye" (Lord, give me only that much what is sufficient for my family, myself and the sages who come to my door).
If only we all could imbibe this pearl of wisdom as a way of life!
rajeshkrishan77@gmail.com