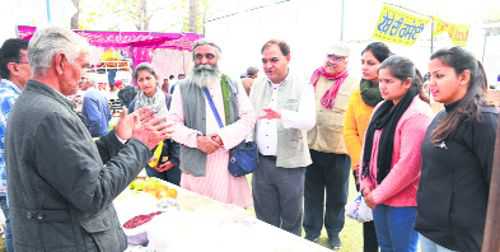 Amarjot Kaur
Tribune News Service
Chandigarh, January 20
At the Magnificent Millets Festival and Dialogue, organised by NGO Kheti Virasat Mission, some 50 organic farmers from the region exhibited their produce for sale at the staff club and community centre, Panjab University, Sector 25, here.
While Umendra Dutt, executive director of the NGO, waxed eloquent on the benefits of growing millets, organic farming, sustainable agriculture and soil conservation, jaggery toffees by city's homegrown company 'Jaggic' was a hit among the visitors.
"Jaggic is one of the brands of the House of Farmers, which is an initiative that aims at improving the status of Indian farmers and producing safe food for everyone," said 36-year-old Bhupesh Saini, the ideator of Jaggic. Having worked for various global brands in the field of advertising and marketing, Bhupesh was driven to working with farmers so as to market their produce and place them prominently in the global FMCG industry.
"Working with big brands, I realised I was only making the rich richer. Jaggery has been an integral part of our food culture and I wanted to market it in a more consumable fashion while tying up with local farmers," he said.
So, on returning to India three years ago, Bhupesh collaborated with a former government school principal, Tarsem Singh, an organic farmer based in Neela Naloya village, Hoshiarpur, Punjab.
"It's a seasonal product. So we only have about four months to make it. It took us a year to zero in on the size of the jaggery and we are selling each toffee for Rs 2," he said.
The jaggery toffee comes in four different flavours - turmeric, ginger, lemongrass and saunf - priced at Rs 135 for 60 candies.
"In the first year, we sold about 1,000 boxes and the response was overwhelming. Now, we have tied up with another farmer, based in UP, Rahul Kamboj. He makes 5 gm sachets of powdered jaggery for us," he said.
While highlighting the need for initiating a collaborative marketing strategy between farmers and buyers, Bhupesh said: "The only drawback, when it comes to organic farming in India, is that farmers don't know how to market their produce. We need to cut out the middlemen. For now, the existing farmers of the brand will become entrepreneurs and they will join hands with more sugarcane growers and jaggery makers to expand the network. Our only condition is organic and non-chemical produce."
For now, Jaggic's jaggery treats are manufactured in Neela Naloya village and marketed by Mauli Jagran-based House of Farmers.
Challenges in organic farming & self-help groups
Organic seeds are only exchanged at melas and festivals. Most organic farmers are forced to buy hybrid seeds when it comes to growing vegetables and fruits. "Farming is the only business where the farmer buys at the retail price and sells his produce on wholesale rates. It's hard to find desi seeds, so we buy hybrid varieties. Also, it takes too long to grow organic seeds, especially for vegetables. One has to wait for 6 months or so," says Ravideep Singh of Pharwahi village in Barnala, who started organic farming after losing his mother to cancer in 2011.
Changing the mindsets of many farmers across Jaitu, Faridkot, Kheti Virasat Mission's self-help group Jeevanjot sets the message of organic farming across different villages through three groups comprising 10 women each.
"We have 2,500 women, some who are widows of farmers who committed suicide, working on their organic kitchen gardens," says Sarabjit Kaur. There are five such groups of charkha weavers too.